Coachella Valley Snowbirds
Published on June 22, 2010 by California Winter League · No Comments

Welcome Coachella Valley Snowbirds Fans!
If you call the beautiful Coachella Valley your winter home, but when things get a bit warmer you pack up for a milder climate, the Snowbirds are the club for you. Like many of you, players on the Coachella Valley roster are often on the move and have called many places home as they wing their way towards their baseball goals. Since birds of a feather do flock together, the place for you and those players to flock for baseball in the winter, is right here in the California Winter League.
Record: 7-11-1
Tags: snowbirds
News
  Click here for a downloadable version of the 2015 registration form // 2015 California Winter League Registration First ...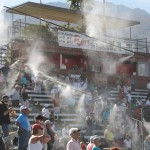 The Oregon Lumberjacks were crowned California Winter League champions on Sunday with their 7-5 in over the Bay ...
CWL Signings (website)
Championship Preview Bay Area Bootleggers @ Oregon Lumberjacks 12:00PM- Palm Springs Stadium   In their inaugural year the Bay Area Bootleggers ...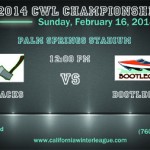 FINALS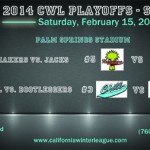 Semifinals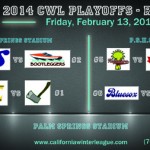 Round2 (fixed)
The fifth regular season of the California Winter League has come to an end, making way for the ...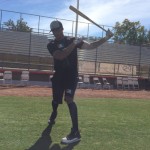 Wilfrido (Wil) Pujols, the cousin of Los Angeles Angels superstar Albert Pujols, showed up to the California Winter ...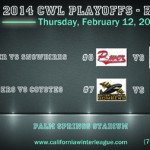 Round1