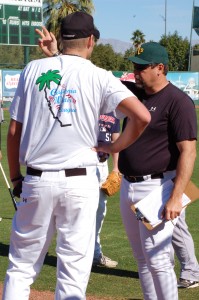 Professional baseball is about to embark on its second winter season in Palm Springs.  The California Winter League (CWL) is bringing players from around the world, right here to the desert.
The league has taken a huge jump in size from year one to year two. There are nearly twice as many players in the league this year.  This can be largely credited to President, Andrew Starke, and his understanding of what the players want. "The first thing is bringing out coaches and scouts that will have the opportunity to sign players to contracts and offer them opportunities to go forward."
"The response that we've gotten verbally from the scouts is that they're going to show up," said Starke.  "They're even passing on names of players to participate in the league which shows that they respect what we're doing"
Last season, Oakland Athletics scout Craig Weissmann got the chance to attend a few games and liked what he saw.   "Anytime you can organize a league that allows players to go out there and play, it's great for baseball.  The more players that are out there playing, the greater opportunity there is for them to be noticed and develop as baseball players."  Weissmann did notice something he liked.  He signed infielder Jeff Bercume to a professional contract.  If everything falls into place, Weissmann plans on returning to the CWL to check out the new batch of talent.
It's not just scouts that will be back for year number two.  Newstalk 920 will once again be the home of the California Winter League. Programming director Steve Kelley is excited to see the direction of the CWL.  "You can tell the brand is growing because of the kind of players they're attracting."  Kelley also believes that this league is about more than just players.  "Andrew does an important service to the community, and we felt it was an important service to cover them".
The Palm Springs community has been a major key to the leagues success.  "We're not just marketing to the full time residents, we're marketing to the tourists as well," said Starke.  The hopes are to get people from all backgrounds out to the games and make the California Winter League part of Palm Springs culture.  Starke wants everyone to be a part of the 2011 season. "There's something for everyone.  You get up and play golf and you want to come for lunch.  You're a late riser and you want to watch an afternoon game.  If you're working or have school and want to come to an evening game or a weekend game. Come out to Palm Springs Stadium."
With opening day (January 22) fast approaching, Starke has one message for the community.  "The fans that come out will really be receptive to what we have and the product that we offer".