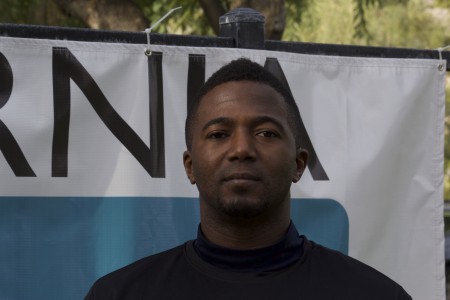 By Spenser Smith
PALM SPRINGS, Calif. — From his humble home in the agrarian hamlet of Van Vleet, Mississippi, Darryl Stanfield did not always envision himself as a baseball player. His father and grandfather were both farmers, and sports were but a fleeting thought.
"I used to walk around outside my house, hitting rocks with a stick," Stanfield says. "But one day when I was nine, the mailman came by, and he asked me if I'd ever played baseball before." He had not.
That visit planted the seed of Stanfield's love for baseball, and in the following days, the same mailman stopped by Stanfield's house to take him to Little League practices and games in nearby Houston, Mississippi.
His young career took off from there. After going on to play on a local Babe Ruth traveling team at age twelve, Stanfield came to the understanding that baseball was his calling. In spite of life's ups and downs, he maintained, baseball provided a safe haven. He continued to pursue his passion into college, playing ball at Concordia College in Selma, Alabama.
After college, Stanfield found himself out of baseball for a time. But while watching a local softball game one day, a foul ball landed out of play nearby. He grabbed the ball to throw it back, and suddenly, that magical feeling returned. "That was when I realized I wanted to start playing ball again," Stanfield said.
He promptly took to the batting cage, and then joined a softball league to get back into playing shape. Soon after, he drove from state to state, signing up for tryouts that could potentially land him a new baseball home. The tryouts yielded no results, but Stanfield remained determined.
He finally caught his first break when his mentor, former major league pitcher Dennis "Oil Can" Boyd, led him back into the game that he had loved so dearly.
"He got me off the streets," Stanfield recalls with gratitude. Boyd provided him with a helpful lead in the form of contact information for former major league outfielder Marquis Grissom, who was willing to help.
"So I called Marquis Grissom," Stanfield said, who in turn gave him the contact information of a coach searching for players for an independent baseball club in Texas.
Stanfield landed a tryout with the team and immediately turned heads with his talent. Intrigued by the skills the outfielder exhibited, the manager asked that he attend all practices from that point on, in order to catch a bigger glimpse of what the iron-willed ballplayer could bring to the club. Having driven to Texas all the way from Washington, Pennsylvania, the site of his previous tryout, it was a no-brainer for Stanfield—he was there to stay for the foreseeable future.
"It was God at work," he said. "I wasn't going there to do anything but play ball." The day-to-day grind, he added, proved challenging at times. "I barely had any clothes. I had fifteen or twenty dollars to my name at that point. But I had a bat and a glove." And those items were all he needed to hone his craft, as his first full practice with the team opened eyes.
"I finally got my turn (to take batting practice) and hit seven of twelve pitches over the left-field wall. That's where the bullpen was, and the pitchers started yelling 'Coach, if you don't sign this guy, I quit!'" He adds that he did not know how to respond to such a reception, but simply went about his business on the field.
Having seen plenty, the coach welcomed Stanfield onto the team and placed him in an apartment with a teammate who was a former Colorado Rockies draft pick. Stanfield explains, "He was a blessing to me because he knew the game, and I knew the streets. He'd messed up all his money in the streets. So it was a perfect situation—I could help him, and he could help me."
Arriving at the ballpark the following day, Stanfield's manager pelted him with a flurry of questions. Stanfield remembers being afraid at first, fearing that he had done something wrong, but says that "He finally told me, 'you've been activated to play in this weekend's series.' And I just cried.
There was no one I knew who expected me to do anything besides sell drugs and get in fights." And as if to directly renounce his past, he collected two hits in three at-bats in his first game.
In the middle of the season, however, the club fell on hard financial times. The coaching staff called a team meeting, asking players to pitch in to help the team stay afloat. Stanfield pushed right to the forefront. "I had a hustler's mentality back then," he says, which in this instance, served as an advantage.
He and several teammates walked around town carrying a bucket full of tickets, distributing them for free. "The coach told us 'if (the fans) buy a drink or a hot dog at the game, that's your pay. So pass out as many tickets as possible.'" Miraculously, the effort helped in the short term, and on the field, Stanfield led his team to the league championship series.
But the glory was fleeting, as the team fell in the final round, and the entire league ceased operations shortly thereafter. That still did not deter the talented outfielder. Later that year, the same coach began recruiting players to form a new team in a new league.
"I didn't know anything about it, but I just wanted to play ball," Stanfield says. He went on to lead his club to a championship. Stanfield says, "During the season, guys started saying things like 'fan favorite, Darryl Stanfield!' It was cool, but I let it get to me. I started to let it puff me up. . . . I knew I had a major part in the championship, and when I wasn't getting the same attention in that offseason that I got during the season, I got depressed."
He no longer delights in knowing what others say about him. "These days, I feel that it's none of my business," he says. "If I know people are thinking positively about me, I'll get cocky. If I know they're thinking negatively, I might get frustrated and depressed."
The following season, in 2012, Stanfield recalls having a complacent attitude, with the misconception that he had a spot locked down in the starting lineup. His coach took notice of his lack of mental preparation, and promptly benched him. Given the relationship's strong beginnings, Stanfield felt slighted, not understanding his coach's sudden change of heart.
He remembers, "I wouldn't get up and shake people's hands, I wouldn't say 'good game,' I was just a horrible teammate." It was at this point that Stanfield slipped back into depression. "I was drinking and partying, and I felt like . . . he (the coach) was just being a jerk."
Disgruntled, Stanfield quit the team. But now, reflecting on the past, Stanfield acknowledges, "I wasn't looking at the man in the mirror—the real jerk."
After another brush with the law that offseason, Stanfield had had enough with Texas and longed for a change of scenery. He immediately packed up and left, concluding that he "needed to find God, because I'd lost him."
His life took a turn for the better later in 2012, while working at a Mississippi convenience store. A friend of Stanfield's had set up a date for his ex-ballplayer companion, and arranged for her to meet Stanfield at the end of his shift. Smiling, Stanfield recalls, "I'd never believed in love at first sight, until I saw that woman."
That same woman is now his wife, and Stanfield openly discusses the positive effects that she has had on his life. He explains that he never felt the need to put up a facade for her, unlike with significant others in his past. She also brought him to church every week, helping introduce him to the importance of faith in God and realizing his own purpose on earth.
Now, he says, "I make sure that I increase my faith in God every day. He's showing me so much," Since his spiritual rebirth, Stanfield has proudly shared his faith with others in his life, and takes great care to live by all that he believes in.
Stanfield's latest challenge, albeit a lesser one, came during the recently-completed 2015 California Winter League season—playing for the Palm Springs Chill, a team comprised largely of players from Japan who spoke little English. But the language barrier did not faze Stanfield, who takes every opportunity to show kindness to others.
"I've had conversations with them through Google translate," Stanfield grins. "I type out what I want to say to them, and then show them the translation," he says, adding that it has helped him build meaningful relationships with his teammates.
Through all of his ups and downs, both in his baseball career and in his personal life, Stanfield has made one discovery that stands above the rest. "No matter how old you are, there is no one who can keep you from achieving your dreams. Only you yourself have that power." And Stanfield continues to chase his own dream in a game that has meant so much to him since childhood.