The Oregon Lumber Jacks (4-3) overcame two deficits to defeat the Palm Desert Coyotes (3-4) 4-3.
The Coyotes jumped out to an early 2-0 lead in the first inning, but the Lumber Jacks quickly answered with two runs in the second inning on an Anthony Desomma two-RBI single to knot it up at 2-2.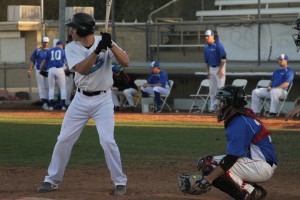 The Coyotes went ahead 3-2 in the sixth inning, but once again, the Lumber Jacks showed resiliency with a walk-off RBI single by the red-hot Michael Bolling.
In the second game, the undefeated Coachella Valley Snowbirds (6-1) fell to the Palm Springs Power (5-2) 3-2.
Trailing 1-0, the Power used a three-run fifth inning to dethrone the Snowbirds. Jaren Brown, Anthony Kaskadden and Koby Clemens ripped one RBI apiece.
In the game at Palm Springs High School, the Canada A's (1-6) got off the schneid as pinch-hitter Deaun Williams blasted a three-run homer in the bottom of the sixth to defeat the British Columbia Bombers (3-4) 3-2.
The A's had no hits through four innings.
Newcomer Anthony Parise notched his first save of the season in his California Winter League debut.
In the final game, the Palm Springs Chill (3-4) heated up with a four-run seventh inning to snatch a 5-4 walk-off victory over the Washington Bluesox (3-4).
The Chill scored one run in the third inning, but the Bluesox replied as Damien Broadnax cranked a two-run single in the fourth to grab a 2-1 lead.
The Bluesox added two more runs in the sixth to extend the lead to 4-1. Gabe Maldonado contributed one RBI.
In the bottom of the seventh, a chill was sent down the spines of the Bluesox. Ladarrius Cole led the charge with the first RBI. Charlie Stewart followed in suit with a two-run single. Stewart scored the game-winning run on a wild pitch to complete the four-run rally.