In game one of the day the Canada A's (2-7) busted out the big bats, newly acquired Adam Conner went two for four with an RBI in his A's debut.
The Palm Desert Coyotes (3-6) committed three straight errors in the bottom of the second inning that allowed the A's to score two runs.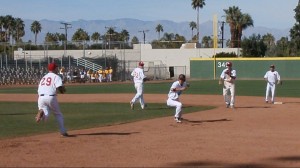 Jared Power, Justin Girton and Hank Burditt allowed 5 runs as the A's slammed the Coyotes 10-5.
The battle for Palm Springs between the POWER and the Chill went the way of the POWER. The POWER (7-2) started slow allowing an early 2-0 lead to the Chill (3-5) but Taylor Gilliam led off the top of the fourth inning with a single.
Koby Clemens came to bat and moved Gilliam to second with a single of his own and then Marquis Riley drove in Gilliam from second base with an RBI single to make the score 2-1.
The POWER was not done offensively when in the top of the sixth they plated two runs, a pair of singles from Aritz Garcia and Taylor Gilliam led of the inning. Aritz Garcia scored on a sacrifice fly from the bat of Koby Clemens bringing the fifth RBI of the season for Clemens. The POWER would add 3 more runs to pull away for their sixth win in a row 6-3 on top of the Chill.
In the third game of the day the Snowbirds (8-1) rallied trailing by two runs to the British Columbia Bombers (3-5).
The Bombers took an early lead on a two-run home run by Maxx Garrett his first of the season.
In the fourth and fifth innings the Snowbirds used a sacrifice fly RBI from Eric Bainer and Michael Durham tallied an RBI triple. In the fifth inning, Relly Mercurio sacrificed a run home and the Snowbirds scored six unanswered runs to stun the Bombers 6-3.