Game one of the day the Canada A's (4-9) mounted a super human effort to come from behind to defeat the Palm Springs Chill (4-9).
Each team showed off their skills to scouts from the major leagues and ball clubs across the country.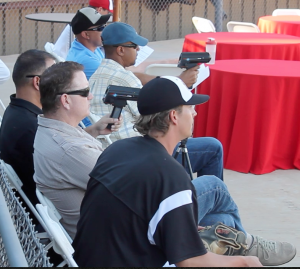 Deaun Williams finished the day two for two with two singles.
Cory Osborne drove home a pivotal RBI in the seventh inning on a double.
The A's went into the top of the seventh inning down six to two but seven runs in the top of the seventh lifted the A's on top.
Mike Meaney finished his day in spectacular fashion going one for two with two RBI's. The Canada A's defeat the Palm Springs Chill, 9 to 6.
The Palm Desert Coyotes (5-8) got a much needed win over a team with a better record, the Palm Springs POWER (8-4-1).
Adrian Ibarra drove in an RBI in the fifth inning on a single, Anthony Amedei finished the day two for two with two singles.
The Coyotes pulled out all the stops; Alex Bello hit a key RBI single in the bottom of the sixth.
Bobby Hillier finished with an impressive day swinging the stick, three for three.
Ryan Levine continued the hot hitting with a two for three day tacking an RBI in the third and the Coyotes finished off the POWER 4-2.
The final game of the day featured the Coachella Valley Snowbirds (12-1) and the British Columbia Bombers (4-8).
Matt Chavez started things off on the right foot with a two RBI double in the first inning
Eric Bainer finished the day two for three with four RBI's including a two RBI single in the second inning and a two RBI triple in the sixth.
The Snowbirds continue to dazzle with a 9-2 victory over the Bombers.