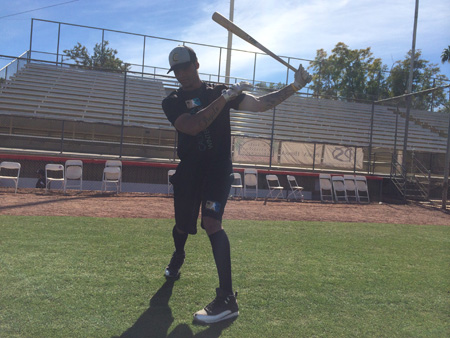 Wilfrido (Wil) Pujols, the cousin of Los Angeles Angels superstar Albert Pujols, showed up to the California Winter League with a new outlook on life.
As Wil Pujols walked through the gates of Palm Springs Stadium, he smiled and began the check-in process. The entire CWL staff knew Wil Pujols was coming, and they also knew he was Albert's cousin.  Something very few knew was the story of how he ended up here.
Back in 2005, the St. Louis Cardinals drafted Pujols in the sixth round.  His dream to play professional baseball had come true, but the money that came with the signing brought unexpected problems.
"I got a lot of money after being drafted, and after that I landed in with the wrong crowd," Pujols said. "I had friends who kept dragging me down, and that is when the trouble started."
In 2006 Pujols pleaded guilty to second-degree destruction of property and received two years of supervised probation.  The Cardinals organization released him.
"My mind was in a very dark place, I started derailing," Pujols said.
About two months later Pujols went through a night that forever changed his life.
While at work, Wil received a frantic telephone call from his brother Wilfredo's wife. She was terrified as Wilfredo, who was under the influence of drugs, was driving recklessly with the couple's child.
Pujols left his job immediately in search of his brother.
"That's where it all started," an expressionless Pujols said recently.
After locating his brother's family, Wil gave his sister-in-law the keys to his car so she could drive home.  Wil then got into the car with his brother who was visibly upset.
"He was behind the wheel, not acting normal, he was on drugs and we ended up getting into a car accident," Wil said.
Wilfredo had side swiped a car that was turning left. After assessing the damage, Wil's brother, knowing he would be arrested if the police showed up, decided to get back into the car.  At this point, Wil had a decision to make.
"I grew up with him, I love him. He took care of me when I was a kid, I wanted to run, but I couldn't.  I thought I could stop him."
Wil got back into the vehicle.
"He took me on the ride that I never expected," Wil said.
A few minutes later, a police chase ensued as Wilfredo took off down a highway and then turned off onto side streets.
"He was jumping hills, driving through sidewalks. I told him to stop, but he wouldn't listen to me. I thought I was going to die that night. I thought we both were going to die."
"One second later, all I hear is a loud boom. I looked back through the back windshield, and the next thing I saw was a kid on a bike in the air."
"When I saw it happen, my mind just tried to block it out. I didn't want to believe what we just did."
Wilfredo had struck Christopher Cooper, a 17-year-old high school student. Cooper was killed in the accident.
Wilfredo kept driving, not looking back.  They eventually hit a tree, and that's when the two brothers took off on foot.
"There was barbed wire, a lot of trees, it got to the point where I looked over to my brother and just said, 'Do you really want to keep running?' Stop! I can't do it anymore."
They then laid down and waited for the police to find them.   Wilfredo went to jail and pleaded guilty to second-degree murder.  He is now serving 15 years in prison. Wil would not be charged in the incident.
"That's when I really went into a state of depression," Wil said.  "Everyone in the town hated me for what had happened, I hated myself."
Wil said he contemplated suicide. He then opted to leave Missouri for Florida, violating his parole. Pujols' drug habits continued and he did not know how he was going to continue on with his life. "I just didn't know how to get away from the drugs, and with the drugs came a lot of evil."
While in Lawrence, Kansas, a friend called Crime Stoppers and gave up Pujols' location. At this point, Pujols had accepted the fact that he was going to be arrested and go to jail. "The cops came to the hotel room where I was at, and I told them, 'I am Wilfrido Pujols and I'm ready to face the consequences."
Pujols knew what had caused his problems. "I never smoked or drank before I was drafted, I would have never told you I would be in a jail cell when I was a kid. I would have told you I'll be on the field, in a Cardinal uniform. I was given a lot of money, and did not know what to do with it, I should have been smarter with who I hung around with, I know it is my fault and no one else's."
"I should have sought Albert's help, he left a door open for me, but I felt ashamed to be around him and his greatness."
Wil hit rock bottom when he went to jail. He was beat within inches of his life as the inmates found out he were a cousin of Albert Pujols. Wil was put into a solitary cell so he would not be in any more danger.
While in the jail cell something was crumpled up in the corner that caught his eye. Pujols wiped the blood from his eyes and picked up what was an old magazine. "There was a picture of Josh Hamilton. I did not know who he was, until I read his story and it was like I was looking myself. This was my first sign of hope."
Pujols was charged with armed criminal action and first-degree burglary. The majority of the charges would be dropped and he was allowed to plead guilty to a misdemeanor with time served.
After getting out of jail, Pujols began to piece his life back together little by little, starting with his family. "During my stay in jail I learned I had a son. I felt like he was a gift from God, when I got out of jail this boy changed my life."
"I started to become a good father, a better person, and I found God. Eventually I began thinking about baseball again."
A smile returned to Pujols' face as he began to talk about baseball.  He talked about watching Albert as a kid hit home runs out of a high school field when Albert was just 12 years old.
Pujols said, "Baseball is what brought my family together when I was a kid, I loved this game and I couldn't leave it. It gives me goose bumps just talking about it."
Pujols started to feel good about himself, he was looking for his second chance.
Pujols got that second chance one day when a league needed an extra player, and they approached him to join them.
"I wasn't sure I could play like I used to be able to, but I proved myself wrong.  I was hitting line drives, throwing people out, and stealing bases."
Dan Dipace, an instructor for the California Winter League, just happened to see Wil playing that day and told him, "Wil, there is a place for you. It's called the California Winter League. Do not turn back, do not look back. You need this league."
Today, Pujols is playing for the Palm Desert Coyotes looking for a professional contract, but knows to take nothing for granted.
"Even if I don't get signed, even if I strikeout one hundred times, I don't care I am just happy to be here. I could have gone down a different path."
Pujols praised the California Winter League for the opportunity he and his teammates are getting. "I just want to use this as a platform to help people and show them I am on the right path and have become a better person and father."
And If Pujols could offer advice to someone encountering the same situation he was in, what would it be?
"Seek help, you are not alone, please do not isolate yourself. I have been through it seek someone, family and the lord."
Pujols' dream is to play for the Cardinals, to get that second chance. "I wake up every day just dreaming of playing for the St. Louis Cardinals, I want to prove to them that I have matured and become a better person.  I am ready to make a run again."
You can follow Pujols and the California Winter League by listening live to the games broadcast over the CWL website, or by watching them daily at Palm Springs Stadium.