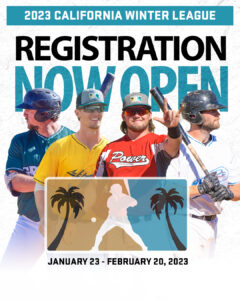 Player registration for the 2023 California Winter League season is now open! Entering its 14th season, the CWL has seen over 800 of its former players sign professional contracts across all levels of baseball, including the Major Leagues. In 2021, the CWL saw its first alum claim a World Series victory when left-handed pitcher Tyler Matzek and the Atlanta Braves won the championship. Matzek took part in the 2018 CWL season as a part of his comeback effort before landing with Atlanta.
In 2022, 42 CWL players signed professional contracts, including Kyle Johnson with the Chicago Cubs. Johnson, a converted outfielder out of Purdue University, pitched briefly in the low minors for the New York Yankees before being released in 2018. In 2021, Johnson spent time with the Windy City Thunderbolts in the Frontier League before he was seen by Cubs scout Kyle Phillips at a facility in San Diego, CA. Upon seeing Johnson, Phillips noted that the raw ability was there, but Johnson needed to face hitters and prove that his uptick in velocity, up to 97-99 MPH, was sustainable in games. Johnson pitched in the California Winter League and showed off his 97-99 MPH fastball coupled with a devastating change up and breaking ball to earn a spot with the Cubs and spot on their 2022 Double-A squad in Tennessee where he has a 3.00 ERA through 5 appearances and 9.0 innings pitched so far.
In 2023, the California Winter League will feature current MLB scouts and professional managers as a part of its coaching staff who will be out in Palm Springs, CA working with players directly, every day, looking to sign players for their 2023 rosters. On average, 30-40% of CWL players receive a professional contract offer every year. Players play games 5-6 days per week, with workouts and practices scheduled in between. All four MLB partner leagues as well as the USPBL will be represented in 2023. 
Registration includes resort housing at the Marquis Villas Resort in downtown Palm Springs, two meals per day, shuttle transportation each day, a gym membership, clubhouse manager services, and more. Early bird pricing is currently in effect, so be sure to register as soon as possible for the best price and to guarantee your roster spot! More information on registration and what's included can be found at californiawinterleague.com/join