The California Winter League signed Ricky VanAsselberg to the 2011 instructors' line-up Thursday. As the manager of the Shreveport-Bossier Captains, VanAsselberg will represent the American Association of Independent Professional Baseball, for the second season of the CWL. In the 2010 season, VanAsselberg led the Captains' franchise to their first American Association Championship.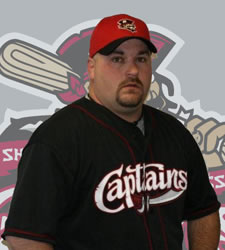 VanAsselberg will enter his third year with the Captains for the 2011 season. He led the team to a 48-48 record in 2009 – a 22-game improvement from the previous season and the team's first .500 season since 2006.
Prior to managing the Captains, he spent three highly successful seasons managing the Alexandria (La.) Aces of United League Baseball (ULB). His clubs won back-to-back ULB crowns in 2006 and '07 and was one win away from capturing a third, falling in the final game of the 2008 Championship Series. In his three seasons guiding the Aces, he posted a 155-114 record (.576 winning percentage) during the regular season and a 12-5 record during the postseason (.706 winning percentage). VanAsselberg was named ULB Manager of the Year after both the 2006 and '07 seasons.
A Gardner, La., resident, VanAsselberg played collegiately at Baptist Christian College in Shreveport, winning back-to-back national small-college championships in 1995 and '96. He was a two-time small-college all-America selection and was named MVP of the 1996 tournament.
VanAsselberg started his professional playing career in 1996 with the Alexandria Aces and after one season was signed by the Baltimore Orioles. He also spent time with the Ozark (Mo.) Mountain Ducks in 2001 and Rio Grande Valley (Texas) WhiteWings in 2002, serving as a player/coach for both clubs.