On Monday, the California Winter League signed John Harris as an instructor for the upcoming season.   Harris comes to the CWL from the Amarillo Sox of the American Association.  In 2010, Harris was with the United League's Amarillo Dillas where he served as hitting coach this past season.  He also served as the Dillas' manager during the 2004 season and has lived there during the off-season for over 15 years.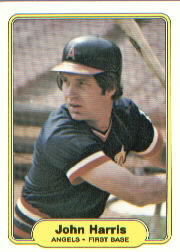 A native of Portland, Oregon, Harris was originally selected by the California Angels in the 29th round of the 1976 MLB Amateur Draft. Harris made his MLB debut on September 26, 1979 with his final MLB game on October 3, 1981. In three seasons with Angels, Harris played in 56 games for the Halos posting career offensive numbers that include a .258 batting average with 8 doubles, 5 homeruns, and 16 RBI, in 131 official plate appearances.
After his MLB career, Harris has spent over 20 years managing and coaching in professional baseball where he has been regarded as one of the finest hitting instructors by his peers but is most notable for his ability to procure players.