Today marked the California Winter League's first ever "MLB Workout Day".  Offensive players put their skills to the test in front of scouts from the Boston Red Sox, Tampa Bay Rays, New York Mets, Arizona Diamondbacks, Philadelphia Phillies, Toronto Blue Jays as well as several other independent league scouts. The players were tested on speed, arm strength, defense, and hitting.
It was an opportunity for the players to prove that they could take the next step in their baseball career.  Bart Zeller, a scout from the Frontier League made the trip from Scottsdale, Arizona and it was well worth it.  "I knew that there would be 100 young ball players looking for a place to play" he said. "I've made a number of contacts and I'll go back and check their records out; and I've made some good contacts with the coaches so we'll be able to work together as the year progresses."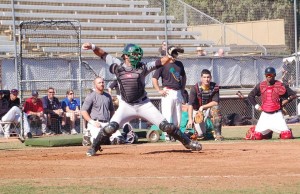 Zeller was out here looking for pieces to fill his Joliet Slammers roster, but he realizes what the CWL has to offer.  "There are a lot of scouts from a lot of other leagues looking at them.  There really could be no better place (for a young player)".  Zeller is now planning a return trip to Palm Springs.
Boston Red Sox scout, Jaymie Bane, also took in the CWL's first MLB workout day.  Bane knows that even though many of these players were not drafted, that does not mean they can't play at the next level.  "If you look at the major league rosters, players come from everywhere." Bane said.  So when he comes to an event like this one, he says he's looking for "Somebody that sticks out."
That somebody was outfielder by trade, Alex Cowart.  "(Bane)gave me some pointers.  It was pretty cool" said Cowart.  "He told me that I need to start working on pitching and he says he's going to give me a call in February".  Cowart said that when he woke up this morning, "I really didn't expect to talk to a Red Sox scout".  After listening to Bane's advice, Cowart is not hesitant to make the switch to the mound. "I just want to keep playing. I'll play anywhere."
The Scouts return to Palm Springs Stadium tomorrow to watch the pitchers showcase their stuff.  All pitchers will throw one inning of live game action.