PALM SPRINGS, CA — The California Winter League is pleased to announce the addition of Lance Burkhart to the instructor staff for the 2012 season. Burkhart, a long-time catcher in the Expos, Rangers, Orioles, and Brewers organizations, joins the CWL after his first year with the Lancaster Barnstormers as their hitting coach.
Burkhart will be joining the league as an instructor to help CWL players develop, and, as a representative of the Atlantic League, will give the CWL a fantastic connection to the highest level league in Independent League baseball, as the Atlantic League is widely regarded as a AAA caliber league.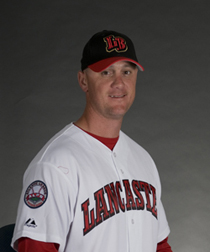 After signing with the Expos in 1997, Burkhart spent eight seasons in affiliated ball before four seasons with the Lancaster Barnstormers and one year with Southern Maryland Blue Crabs out of the Atlantic League.
This season, the Barnstormers finished won the Freedom division in the first half and are just three games out in the second half, and Burkhart's coaching has been a big part of their success. Lancaster is second in the league in batting average, slugging percentage, and home runs.
The CWL is excited to have Burkhart on-board for the 2012 season, and anticipate more exciting names to be added to the list soon! Check back at CaliforniaWinterLeague.com for updates in the near future.