The first day of the California Winter League is in the books.  Things got off to a brisk pace with players filing in from all over the world to be a part of the CWL.
Players from as far as Japan, Mexico and Canada are here this year to try and land a spot in professional baseball. One-hundred players in all have made their way to beautiful Palm Springs.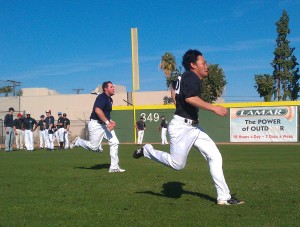 Year after year the CWL continues to improve. This year the league has brought in over 20 scouts and coaches who are trying to find that diamond in the rough.
There are major league scouts on hand representing the Boston Red Sox, Arizona Diamondbacks and Philadelphia Phillies. In addition, many coaches from independent baseball teams from around the nation are looking for that piece that will complete their team.
Players were filled with excitement as they filed into the locker rooms to complete medical history forms with the league training staff. They then shuffled into the next room to grab their league gear and coveted food vouchers from many of the local restaurants in the Palm Springs area.
After the paperwork, players changed into their uniforms and took the field for some drills.  Under the early morning sunshine, players stood in line to receive a number that would be worn on their back for identification purposes.  These numbers would help the coaches divide the players into five teams for the 48-game winter league schedule.
The CWL kicks off this Saturday, January 21 with a double header, with the first game starting at 10 AM and the nightcap at 1 PM. For more information, go to CaliforniaWinterLeague.com or call (760) 778-HITS.
-Bill Harrington