The day began with a pitching duel in the desert between the Palm Springs POWER (6-2) and the Oregon Lumberjacks (4-4). Taylor Gilliam led the POWER with a double that drove in an RBI in the second inning. The POWER used three pitchers, loaned Chill hurler Masahisa Morita, POWER starter Nathan O'Bryan and infielder Adrian Ibarra to limit the Lumberjacks to five hits in a 3-2 victory.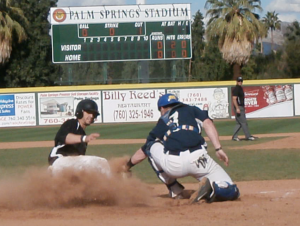 The Washington Bluesox (4-4) set off some fireworks, Damien Broadnax went 2-for-3 with an RBI single, Ryan McMillin drove home an RBI in the first. Designated hitter Josh Riley had a two RBI day and Joey Johnson added an RBI with a sacrifice fly in the fourth. Justin Vasques broke it open in the sixth with a two-run home run in the 8-2 beat down of the A's (1-7).
In the final matchup of the day, the Palm Desert Coyotes (3-5) faced the Coachella Valley Snowbirds (7-1). The Coyotes took an early lead 2-0 when Bobby Hillier hit an RBI single driving in Brennan Malham. The Snowbirds got on the board in the bottom of the first with a Robert Benedict single and scored on an Eric Bainer ground ball fielder's choice in the bottom of the first.A 2-2 tie went into the bottom of the fourth when the Snowbirds Stephan Ohayon drove in the go-ahead RBI scoring Michael Durham and Matt Chavez scored on an error by the second baseman. Snowbirds pitcher Wacy Sorenson pitched the final three shutout innings to secure the Snowbirds seventh win, 4-2 final.