I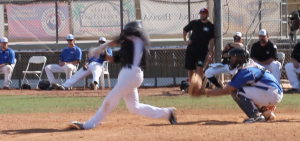 n game one between the Palm Springs Chill (4-6) and the Oregon Lumberjacks(6-4), the Jacks scored four runs in the first inning power by a Michael Bolling two RBI double.
The Lumberjacks added one in the second and three in the third with Mark DiTomasso and Enrique Ocampo scored one run a piece. The Jacks did not stop there adding 2 more runs in the fifth to finish off the Chill 11 to 6.
In the second game between the Palm Desert Coyotes (4-6) and the Washington Bluesox (4-5-1) a pitcher's duel entertained, Ryan Levine finished two for two; Alex Bello went two for three.
Danny Dyer drove in the walk off game winning run. 2-1 final the Coyotes stun the Bluesox.
The final game of the day was a walk in the park for the Coachella Valley Snowbirds (9-1) against the British Columbia Bombers (3-7).
Eric Bainer led the birds a single and a double in his two for three day that brought in an RBI.
Matt Chavez started off the offensive show for the Snowbirds in the first inning behind a two RBI single finishing the day two for three. Zach Brosten added an RBI as the Snowbirds fly away 7 to 2 over the Bombers.