In the first game of three today, the Washington Bluesox(6-6-1) look like a team on a mission as they let their bats loose scoring 10 runs against the Palm Desert Coyotes (4-8).
Josh Riley knocked home a two RBI single in the first inning. The Bluesox hit around the lineup in the second inning, Dan Treccia, George Williams and Riley had one RBI in the inning.
Coyotes scored two in the third from the bat of Danny Dyer with a two RBI single.
The Bluesox answered back with an RBI sac fly by Gabriel Maldonaldo in the fifth in route to a 10-5 victory.
In the second game of the day, the Coachella Valley Snowbirds (12-1) and the Canada A's(3-10) lit up the scoreboard.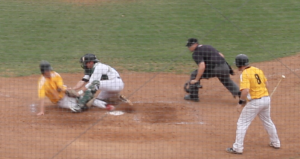 Nash Hutter went three for three with a six RBI day including a solo home run in the fifth inning.
Austin Fraker went two for four with two RBI's, Matt Chavez added an RBI in the third inning.
Adam Connor continues to produce for the A's with an RBI single in the sixth inning, Deaun Williams went three for three with two RBI's but it was not enough as the Snowbirds outscore the A's, 12-9.
In the final game, the British Columbia Bombers(4-7) used a two for three day from Justin Rich at the plate with an RBI to slide by the Palm Springs Chill(4-7).
Ricky Alvernaz drove in an RBI single, William Brown stole three bases and drove in an RBI and Matt Thompson pushed home another run to secure a 3-1 victory.