Leg number one of three threw first pitch yesterday to begin the day with a marquee match-up between the Washington Bluesox (8-6-1) and the Canada A's (5-10).
The Bluesox used an outstanding pitching performance from Connor Murray, the right handed hurler tossed six and a third innings of no hit baseball to silence the A's.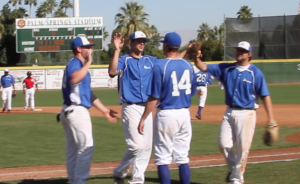 Murray retired sixteen batters in a row at one point.
Tillman Pugh went three for five with two stolen bases and two doubles and came in to score on a Ryan McMillin single.
McMillin reached base five times with a double and two singles along with two RBI's.
The Bluesox sit a game back of the POWER for second place in the CWL with their 9-1 win.
The second leg of the triple header featured the Palm Desert Coyotes (5-10) and the Palm Springs POWER (9-5-1).
The POWER scored two in the first inning, a two RBI single by Ryan Van Amburg.
Jake Luce knocked in Zach Kreeger and Daniel Yancelson with a two RBI single in the sixth inning that was part of a POWER explosion that brought in six runs in the sixth.
The POWER sits alone in second place in the league after an 8-1 victory over the Coyotes.
In the third and final leg of the triple crown day between the Coachella Valley Snowbirds (13-1) and the Oregon Lumberjacks (8-7).
The Snowbirds found themselves on the other side of an offensive onslaught in the seventh inning.
The Jacks used a huge rally from the bats of Michael Bolling with an RBI single, Mark Ditomasso drove in a run as well and Gabe Demarco capped an impressive rally.
The Snowbirds have their seven game winning streak snapped at the hands of the Jacks 5-2.