The Palm Springs Chill (6-9) batted around the lineup and scored four runs in the sixth inning to break a 5-5 tie as they defeated the British Columbia Bombers (5-10) 9-5.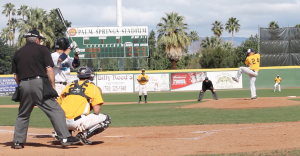 Victor Torres had the game-winning RBI.
Nick Lancisi added two RBI. Ladarius Cole belted one RBI and scored twice.
Matt Thompson went 2-for-3 with one RBI and scored once in a losing effort.