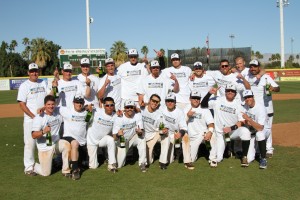 The Coachella Valley Snowbirds (16-3) faced the Palm Springs Chill (8-10-1) in the championship game of the California Winter League!
Seafth Howe started strong for the Snowbirds tossing three scoreless innings. Howe went a complete season without allowing an earned run.
The Snowbirds put two runs up in the bottom of the first with a two RBI single by Relly Mercurio driving in Matt Chavez and Spenser Augustine.
Eric Bainer reached base all four times on a hit by a pitch, walk, single and intentional walk.
Chill pitchers Chris Newell, Scott Hays and Andrew Martin silenced the Snowbirds bats for the next five innings.
The Snowbirds were able to scratch across one more run in the bottom of the seventh.
In the top of the eighth the Birds used a nifty defensive play, pitcher Bobby Hillier simulated a throw toward second base in an attempt to pick off Hiromasa Okashita.
Bobby Hillier never threw the ball as middle infielders Robert Benedict and Stephan Ohayon dove past the bag to fake as if the ball had been thrown into center field. Hillier ran down Okashita and applied the tag to nab the tying run at second base.
The play was perfectly executed by the Snowbirds shortstop Robert Benedict who got his jersey dirty diving behind second base and then pointed into right center field.
For the Snowbirds Spenser Augustine finished the day two for five, Matt Chavez drove in the game winner on a sacrifice fly to left field in the bottom of the seventh.
The Chill were lead by Adam Seaman who had a two hit day, also, Keigo Miyagi went two for four with an RBI.
The crowd went wild as the Snowbirds finish the season 16-3 and wins the 2013 California Winter League championship 3-2 over the Palm Springs Chill!