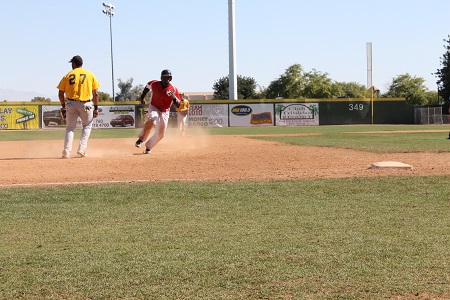 Bootleggers Have the Power as They Top Palm Springs
Judging by their recent run of play, the matchup of the Bay Area Bootleggers and the Palm Springs Power looked to be a bit of a mismatch. The result of the game told that exact story. The Bootleggers would ride home runs hit by Connar O'Gorman and Nick Latta as well as some good pitching to put away the Power.
Bay Area would score in each of the first three innings and never look back. The Bootleggers' starter Ken McDowall was masterful as well. The righty from Las Vegas went 4 shutout innings while striking out 5 and only allowing 1 infield hit to Justin Cureton.
Bootleggers' pitching would only allow one run, a Ryan Lucas home run off of Brian Del Rosso in the top of the 7th, but it would not be enough as the Power fell 7-1.
Bombers lose late lead again in 8-6 loss
The Canada A's (7-6-1) held off the British Columbia Bombers (4-8-1)  8-6 in game one at Palm Springs Stadium on Sunday.
A two run top of the first inning got things started on Sunday. The Bombers jumped on top of the A's highlighted by and RBI triple to give the Bombers a 1-0 lead before Leary later came home to score on a wild pitch.
After falling behind 3-1 the A's erupted for four runs in the bottom of the second. RBI singles from Emmett Ackerlund, Chris Ray, and Jon Mestas helped the A's cause.
The Canada A's stayed hot at the plate putting together their second four run inning of the game to go ahead 8-6 as they hang on for the victory.
Matt Vukovich picked up the win for the A's while Jon Adams suffered the loss.
Pitching, hot bats lead Jacks to 8-3 win over Coyotes
The Jacks wasted no time and quickly jumped out to a 4-0 lead in the top of the first inning.  Bilal Kemp led off with a single and quickly stole second.  After William Smalls drew another walk, Vincent Difazio, Mike Visloski and Matthew Thomas followed up with base hits to give the Jacks a lead they would never relinquish.
After the Coyotes scored three runs of their own in the bottom of the first, the Jacks sent Kagen Hopkins in to start the second.  He cruised through four scoreless innings, allowing just two hits while striking out seven and not issuing a walk.  Joseph Pirrota put up a zero in the sixth and Kevin Rodgers followed up with a scoreless seventh to keep the Jacks atop the CWL standings at 9-4.
Nick Schulz and Gordon Andy Weliver drove in insurance runs in the sixth inning for the Jacks.  Mathew Thomas finished the day with three hits to raise his average to .500 on the season.
Monday's Schedule and promotion:
Out of Towners' Day– $2 dollar admission with out of area ID
Midwest Haymakers @ Coachella Valley Snowbirds– Palm Springs Stadium – 10:00am
Washington Bluesox @ Oregon Lumberjacks– Palm Springs Stadium – 12:30 pm
Palm Springs Power @ Palm Springs Chill– Palm Springs High School – 10:30am
CWL Standings Through Feb 9th;
Oregon Lumberjacks 9-4
Bay Area Bootleggers 9-4-1
Midwest Haymakers 8-4-1
Palm Springs Chill 7-4-2
Washington Blue Sox 6-5-2
Canada A's 7-6-1
Palm Springs Power 5-7-1
British Columbia Bombers 4-8-2
Coachella Valley Snowbirds 4-8-1
Palm Desert Coyotes 1-10-3