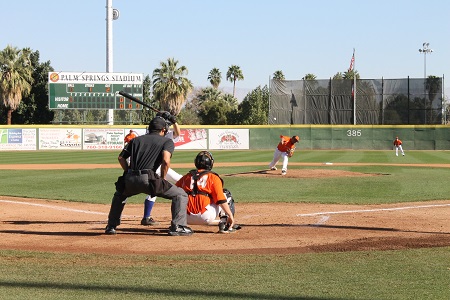 Championship Preview
Bay Area Bootleggers @ Oregon Lumberjacks 12:00PM- Palm Springs Stadium
In their inaugural year the Bay Area Bootleggers will play for the California Winter League Championship. The Lumberjacks are the number one seeded team in the tournament and have punch their ticket to the championship game for their first time.
**Lumberjacks**
The Lumberjacks are one of if not the most dynamic lineups in the CWL. With middle of the order threats like Nick Schulz, Vincent DiFazio and Mathew Thomas the Lumberjacks have the ability to put runs up in a hurry. As you would imagine as the number one seed the Lumberjacks also have one of the steadiest pitching staffs in the league.
Max Duval is likely to start and he has been masterful. Since throwing five perfect innings two weeks ago Duval has consistently baffled hitters. The Lumberjacks when leading late in games have gone to William Patterson and then closer Kevin Rogers to close out their league leading 12 wins.
**Bootleggers**
The Bay Area Bootleggers come in as the most efficient defensive teams. Led by shortstop Nick Latta on the defensive side of things the Bootleggers have made a habit of letting their pitchers not have to work through consistent errors.
On the offensive side of things the Underwood brothers Erik and Scott have seen themselves hitting back to back in the middle of the lineup. Scott is second on the team in hitting with a .389 average, while brother Erik is second on the team in slugging with gap to gap power. Power hitting outfielder Brian Wuest offers the Bootleggers a solid middle of the lineup presence. The Bootleggers have an offense that can explode for a crooked number at any moment.
The Bootleggers did throw their top starter Colby Gurney to reach the championship however they have had one of the stronger bullpens in the league. Lead by reliever Brian Del Rosso and Hayden Shirley each sporting ERAs south of 2.