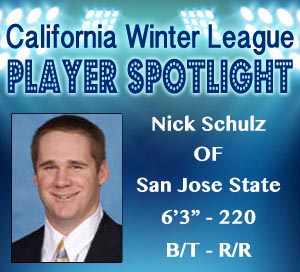 22-year-old outfielder Nicholas Schulz was just signed by the San Diego Padres this week. Schulz – who played in the California Winter League for the Oregon Lumberjacks in 2014 – hasn't been assigned to a minor league affiliate yet, but that announcement is likely to be made once he passes a physical later this week.
Schulz played a big role in the Lumberjacks winning the 2014 CWL championship, leading the team in batting average (.465), on-base percentage (.520), slugging (.722), home runs (3), and RBI (12). He also had one of the more memorable home runs in CWL history when he smashed a ball that dinged off the top of the light post in left field of Palm Springs Stadium.
We had a moment to catch up with Schulz and congratulate him on the signing and he had this to say about his time here at the CWL, "Thanks for letting me participate in the league. It was perfect for what I was trying to do."
Schulz is a great example of what the California Winter League can do for aspiring professional baseball players. Everyone at the CWL congratulates Nick and wishes him continued success at the big league level.
Official Press Release: http://www.frontierleague.com/2014/04/30/boomers-schulz-sold-to-padres-three-added-in-tryout-camp-draft/