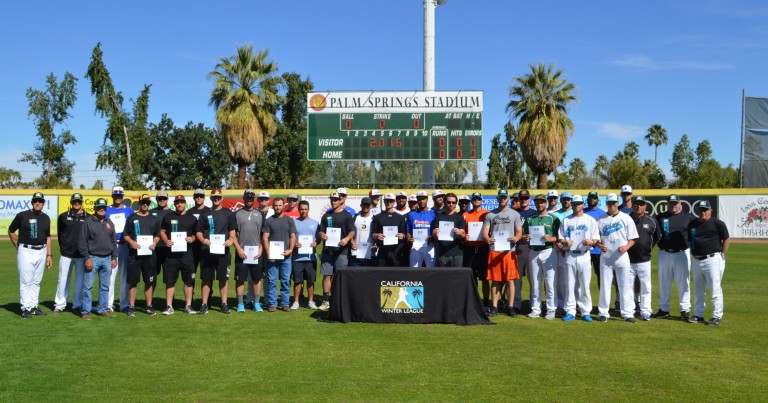 PALM SPRINGS, Calif. – The California Winter League and the Frontier League will be working together for the third consecutive season this upcoming January. The Midwest-based league has currently committed nine team representatives to act as instructors and coordinators for the showcase league that takes place in Palm Springs, CA during the months of January and February. In addition, Frontier League Deputy Commissioner Steve Tahsler is on hand for the entire California Winter League season as a liaison for those clubs not directly represented.
The nine representatives are as follows:
Ron Biga (Windy City ThunderBolts)
Dan Rohn (Traverse City Beach Bums)
Dennis Pelfrey (Florence Freedom)
Cameron Roth (Lake Erie Crushers)
Boots Day (Evansville Otters)
Patrick O'Sullivan (Schaumburg Boomers)
Casey Dill (Southern Illinois Miners)
Josh Ludy (River City Rascals)
Andrew Cotner (Normal CornBelters)
Over 50 players from the 2015 California Winter League signed with Frontier League clubs, including All-Star Game MVP Michael Hur (Rockford Aviators), Home Run Derby champion Reggie Lawson (Traverse City Beach Bums), and Rookie of the Year Brandon Tierney (Frontier Greys).  Another 47 players from the 2016 California Winter League season signed with Frontier League teams, including Post-Season All-Star Catcher Mike Jurgella (River City Rascals), runner-up for Rookie of the Year Luke Barker (Traverse City Beach Bums), and Ken Frosch of the league champion Evansville Otters.  In addition, Matt Pobereyko went from the CWL to the Florence Freedom before being signed by the Arizona Diamondbacks in June.
The Frontier League is the longest-running independent professional baseball league in the United States. Since the league's inception in 1993, 31 players have gone on to play in the major leagues. In the first two seasons since entering an agreement with the California Winter League, the Frontier League has signed 97 players directly out of the league.