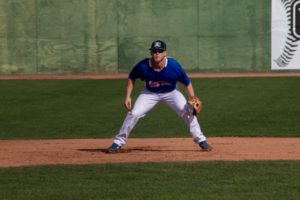 Palm Springs Powers Past Lumberjacks
 With the game tied at two in the bottom of the eighth and pinch runner Spencer Muirhead on second, Myles Wilson hit a ground ball past second into right field. Muirhead came in to score the winning run, giving the Palm Springs Power a 3-2 extra innings victory over the Oregon Lumberjacks Saturday afternoon.
In the top of the inning, Miguel Pimentel hit a towering two-run home run for the Lumberjacks to break the scoreless tie, making it 2-0.
The Power began their rally with Brett Young starting the inning on second. He advanced to third when Landen Barns led off with a single.  With one out, Young scored on a wild pitch and Barnes advanced to third. CJ Broussard then singled home Barnes to tie the game before Muirhead pinch ran for him, setting up the winning run.
Manitoba's Offense Flies North in Win
The Manitoba North Stars took advantage of 22 baserunners on their way to an 8-3 victory over the Washington Blue Socks Saturday morning at Palm Springs Stadium.  The North Stars scored at least one run in each of the first five innings thanks to small ball, deep counts, and outstanding plate discipline.
With the North Stars leading 4-0 in the bottom of the third, Romero Harris hit a two-run double for the Blue Socks to make it 4-2. The North Stars then answered with an additional two runs in the fifth and two more in the sixth to take an 8-2 lead.
Bombers Explode for Seventh Inning Rally
Saturday's morning game on the turf field batted the Bombers against the Grizzly. The Grizzly jumped out to a huge two nothing lead in the first before continuing to score each inning until the final frame.  The Bombers responded in the first inning by putting up a four spot before being held scoreless for next four frames. Going into the 7th inning the score was 8-5 by way of the Grizzly's.  Bombers stepped up to bat in the bottom of the 7th down 3 runs. Ganzaroli walked to start of the inning followed by a single of Pollack, and a triple of Kawakami and to finalize the walk off Taichi doubled bringing around the winning run of Kawakami.