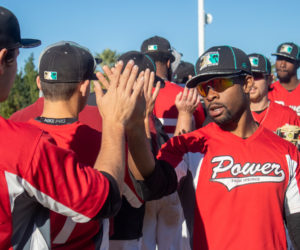 Homerun Slugfest leads to a Palm Springs Chill Win.
Tuesday morning's Turf Field game had the Palm Springs Chill facing the Oregon Lumberjacks.  The game featured five homeruns; four by the Palm Springs Chill and one by the Oregon Lumberjacks.  The Chill had homeruns from Tristan Graham, Peyton Isaacson (2), Matthew Lillard. On the other side Hirofumi Ohtsuka hit a homerun in the final inning.  The abundance of homeruns lead to a final score of 17-10.  The win going to Ko Motomura of the Palm Springs Chill.
Orbik Uses One Hit Performance to Shutout Blue Sox
The Alberta Grizzly defeated the Washington Blue Sox in shutout fashion on a chilly and windy Tuesday morning. After a scoreless first inning, the Grizzly took the early 1-0 lead in the top of the 2nd. The Grizzly added three more in the top of the 3rd to make it 4-0. A scoreless 4th and 5th would follow before the Grizzly added one more insurance run in the top of the 6th. That is how the ballgame would end with the Grizzly defeating the Blue Sox by a final score of 5-0. Jeremy Orbik in his start for the Grizzly went five innings, allowing just one hit, with five strikeouts.
Power Use Big Inning to Shutout A's
The Palm Springs Power followed a game one shutout by the Grizzly with a shutout of their own over the Canada A's in game two  of the day. The first two innings were scoreless before the Power finally broke through in the bottom of the 3rd. Denz'l Chapman got the scoring started with a two-run home run over the right field wall. John Tuttle another pair of runs thanks to his two-run double to make the score 4-0. That is how the game would finish after Ethan Rosebeck settled in to go five innings in his start recording eight strikeouts.