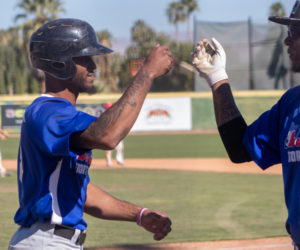 Bombers bats come alive for late game win.
Thursday morning's game faced the British Columbia Bombers against the Canada A's. The score was tied 1-1 into the top of the fifth inning before the bats of the Bombers started to come alive scoring four runs, followed by another two in the sixth inning. The winning pitcher was Joseph Rivera of the Bombers who ended the game with 8 strikeouts. The final of the game was 7-1, Bombers notching another win.
Northstars Score Late, Take Down 'Jacks
The Manitoba Northstars took down the Oregon Lumberjacks 6-2 in Thursday morning's game at Palm Springs Stadium. The Northstars led 1-0 into the fourth until Sam Troyer's two-run double gave the Lumberjacks their first lead. Manitoba jumped back on top in the sixth after Hunter Hisky's two-run double. The Northstars put the game away with three runs in the seventh, two on TJ Riles' two-run home run. Justin Lewis allowed just two hits and two runs (one earned) in four innings with nine strikeouts. Tyler Vogel tossed three scoreless innings in relief for the win.
Chill Blank Grizzly, Win Third Straight
The Palm Springs Chill defeated the Alberta Grizzly 9-0 on the second game at Palm Springs Stadium. Tristan Graham's RBI single in the first got the scoring started, and a few pitches later, Matthew Lillard's two-run double extended the lead to 3-0. After adding a run in the third and fourth, the Chill blew the game open with four in the fifth. Kokoro Aomatsu and Jake Luce put together back-to-back RBI base hits ahead of Graham, who's two run home run rounded out the scoring. Neil Uskali earned the win, he scattered four hits over six scoreless with nine strikeouts. Graham finished the day 2-for-4 with a home run and four RBI's.