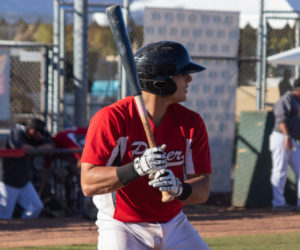 By Frank LaSala
PALM SPRINGS, CALIF – 2020 California Winter League attendee John Sechen has signed a contract with the Colorado Rockies. Sechen, a native of Ashland, Wisconsin played in four games with the Palm Springs Power. The 23-year-old Catcher drew eight walks, scored four runs, and stole a base during his time at the Winter League.
Sechen arrived at the CWL after four years of college baseball at Division II University of Illinois Springfield. After appearing in 63 games his first two seasons, Sechen played in 107 games his final two years on campus. He finished his collegiate career 176-for-521 with a slash line of .338/.485/.524. The back stop hit 28 career doubles, 9 triples, and 17 home runs. He also drove in 107 runs and scored 156. Sechen, a three-time all-GLVC selection is Illinois-Springfield's career leader in runs, on-base percentage, triples, walks (115), stolen bases (40), and hit-by-pitches (37). He is also second in hits, RBI's, and games played (170). According to the UIS athletic website, Sechen was named to the school's Baseball All-Decade Team.
Following his four years of college, Sechen appeared in the Western Canadian Baseball League and the United Shores Professional Baseball League in the summer of 2019. In the WCBL for the Swift Current 57s, he hit .307 (23-for-75) in 19 games. Sechen totaled four doubles, a triple, four home runs, 22 RBI's, 13 walks, and a stolen base. He also had two at-bats for the Utica Unicorns in the USPBL.
John Sechen is the first player of the 2020 California Winter League to sign with an affiliated club.