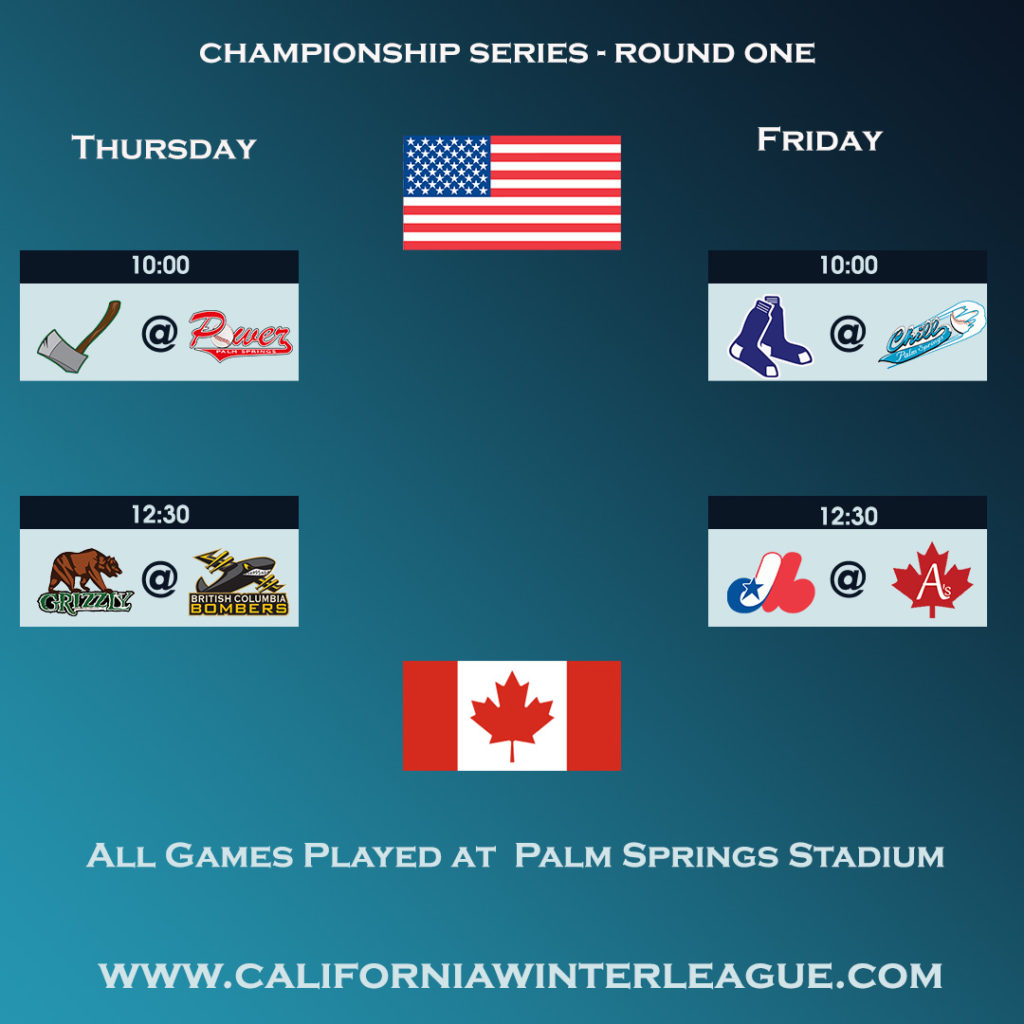 PALM SPRINGS, CALIF – Playoffs for the 2020 California Winter League season begin on Thursday, February 13th, with two games at Palm Springs Stadium. The first game of the day, beginning at 10:00 AM, will feature the #4 seed in the American Division, the Oregon Lumberjacks, taking on the #1 seeded Palm Springs Power. Game 2, beginning at 12:30 PM, will feature the Canadian Division matchup of the #4 seeded Alberta Grizzly taking on the #1 seeded British Columbia Bombers.
The Lumberjacks finished the regular season with a record of 6-9. After a hot start to the season where Oregon won five of its first six games, the team cooled off considerably but will look to regain its early season chemistry against the Palm Springs Power. The Power finished the regular season at the top of the American Division with a record of 9-5. The winner of game 1 advances to Saturday and will play the winner of the #2 seeded Palm Springs Chill and the #3 seed Washington Blue Sox who play on Friday at 10:00 AM.
The Alberta Grizzly enter the playoffs with a record of 5-10. They will look to break out against the top seeded British Columbia Bombers who feature a record of 9-6. Both the Grizzly and Bombers enter the playoffs winning 3 and 5 of their last ten games, respectively. The winner of this contest will advance to Saturday and play the winner of Friday's contest between the #2 seeded Canada A's and the #3 seeded Manitoba Northstars. That game will take place Friday at 12:30 PM.
Thursday is Out of Towners' Day at Palm Springs Stadium where US residents from out of state get into the ballpark for both games for just $3. Friday is Canada Day where our Canadian friends get in for just $3. Saturday will feature semi-final matchups at 10:00 AM and 12:30 PM as well as $2 Bud and Bud Light Drafts all day long. Sunday is the CWL Championship Game that will see 9 innings of championship baseball beginning at 12:00 Noon. Regular ticket prices are $10 for Adults, $8 for Seniors (65+), and $5 for Youth (12 and under). Perfect weather is in the forecast for all playoffs games, so come on out and joins us at Palm Springs Stadium (1901 E Baristo Rd., Palm Springs, CA 92262), or visit us online at www.CaliforniaWinterLeague.com where we will be streaming each game live via Facebook Live.