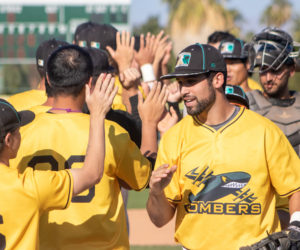 Power Rally Past Lumberjacks
 The Palm Springs Power rallied from a 1-0 deficit in the bottom of the seventh inning to defeat the Oregon Lumberjacks 2-1 and advance to the California Winter League Semifinals on Saturday.  Daniel Lingua led off the inning for the Power with a double, ending a perfect game bid by Lumberjacks starter Mason Alexander.  He then stole third and scored on an RBI single by Brett Young to tie the game at one.  Young advanced to second on a single by Landen Barns and scored the winning run on a walk-off single by Derek Bangert. The Power advance to the semi-finals, which will take place on Saturday, February 15th. They will play the winner of tomorrow's Washington Blue Sox vs. Palm Springs Chill contest. That game will be played at 10:00 AM at Palm Springs Stadium.
Bombers Explode with Big Second Inning
 The British Columbia Bombers scored five runs in the second inning and did not look back in a 6-4 victory over the Alberta Grizzly Thursday afternoon at Palm Springs Stadium.  The victory advanced the Bombers Saturday's California Winter League Semifinals.  Joseph Rivera was lights out for the Bombers on the mound.  He struck out ten through five and a third innings of work including the side in the second and the fourth innings.  The Bombers called on Austin Clark to close out the sixth and Kyle Lugar to pitch the seventh and record the save. The Bombers will have tomorrow off and will face the winner of the Manitoba Northstars and Canada A's, who play  tomorrow at 12:30 PM at Palm Springs Stadium.