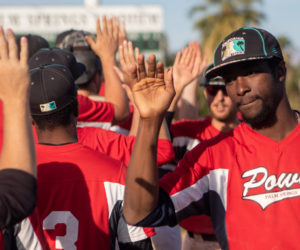 By Frank La Sala
A's Knock Off Bombers, Win Canadian Division
The Canada A's defeated the British Columbia Bombers 16-9 Saturday morning in the Canadian Division Finals at Palm Springs Stadium. The A's led 5-1 after two, then 6-4 until the Bombers scored three in the fourth to take their first lead. Javier Lopez's RBI infield single tied the game, and Kyle Robinson's pinch hit sacrifice fly gave the Bombers their first lead. Jordan Williams's two-run double in the fifth gave the A's the lead back. Canada then sent ten to the plate and scored six times in the sixth to blow the game open. Williams finished the day 4-for-5 with two doubles, three RBI's, four runs, two stolen bases, and a walk for the A's. Riley Mihalik also finished with four hits, going 4-for-5 with a double, two RBI's, and three runs scored. Lopez had three hits, doubled twice, and drove in three runs, while Kyle Heiss hit a solo home run and drove in three for the Bombers in the loss.
Power Ride Eight Run Fourth To Victory
The Palm Springs Power took down the Palm Springs Chill 11-5 Saturday afternoon to win the American Division. The Chill led 1-0 until David Grubaugh's three run home run in the bottom of the second inning gave the Power their first lead. In the third Payton Isaacson hit a three run home run to put the Chill back up 4-3. Sam Neufeld followed with a solo home run a few pitches later. In the bottom half of the fourth, the Power sent 12 to the plate and scored eight times to blow the game open. Grubaugh's RBI single tied the game at five, and Daniel Lingua's gave the Power the lead for good. Derek Bangert's three run double in the inning put the game out of reach. Bangert finished 1-2 with three RBI's and three runs scored, while Grubaugh finished 2-for-3 with four RBI's and two runs. Tristan Baker earned the win in relief, he allowed just one hit over 4.1 scoreless innings with five strikeouts.
The Palm Springs Power and Canada A's will meet at Palm Springs Stadium on Sunday for the California Winter League Crown. Gates for the championship game will open up at 11 AM, with first pitch coming at Noon.