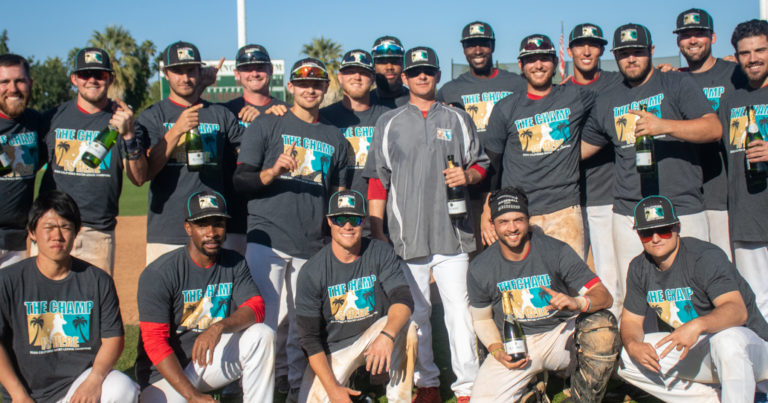 The Palm Springs Power defeated the Canada A's in the 2020 CWL Championship Game 8-3 in a back and forth game. Both teams would strand a baserunner in the first inning in part to a full extension diving grab by Kyle Ruedisilli in centerfield to rob Daniel Lingua of lead off extra bases in the bottom of the 1st. The A's got the scoring started in the top of the 2nd after a leadoff single by Nicholas Rose and a double to follow by Thaddeus Phillips. Eric Ramirez delivered the 2-run single after that to give the A's the early 2-0 lead. The Power countered and tied the game in the bottom of the 3rd after a one out walk by Daniel Lingua was followed with three straight singles by Brett Young, Landen Barns and Derrick Bangert to tie the game 2-2.
After a scoreless 4th, the A's retook the lead in the 5th. Kyle Ruedisilli led off the inning with a single and was followed by a double by Jordan Williams. Riley Mihalik was then hit by a pitch to load up the bases. John Toppa notched the go-ahead RBI with a sacrifice fly to score Ruedisilli and give the A's the 3-2 lead.
In the bottom of the 5th, Brett Young reached first on a lead-off error. Landen Barns then hit a single followed up by a walk by John Tuttle. Myles Wilson tied things up at three after reaching on an error scoring Young. A wild pitch would score Barns to give the Power the 4-3 lead before Manny Jefferson hit a 2-run single to extend the lead to 6-3.
The Power added two more runs in the bottom of the 6th an RBI double by Derrick Bangert scored Brett Young once again. Bangert would come into score later on in the inning on a wild pitch to extend the Power lead to 8-3. The A's gained just five baserunners in the final three innings giving the Power the 2020 CWL Championship Title, a first in California Winter League history. Ethan Rosebeck pitched a masterful seven innings in his start to take the win.
The California Winter League thanks all of our sponsors, fans, staff, and players for an exciting 2020 season! We look forward to seeing everyone back at Palm Springs Stadium next winter!