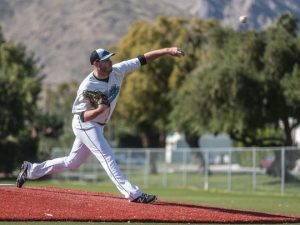 July 24, 2020
PALM SPRINGS, Calif – Former CWL player LHP Tyler Matzek has secured a spot on the Opening Day roster for the Atlanta Braves for the abbreviated 2020 MLB season. Matzek pitched for the Palm Springs Chill in 2018 CWL, impressing scouts with a low 90s fastball, a slider that he could throw for strikes, and a solid changeup to keep right handed hitters off balance. The California Winter League marked the first time in over two years that Matzek had faced live hitters in game situations. Now, he will continue his journey as a member of the Atlanta Braves.
For the uninitiated, MLB teams will operate as "bubbles" in 2020 with active rosters consisting of initially of 30 players before decreasing to 26 active players over the course of the first several weeks of the season. Traditional 40-man rosters remain in place, in addition to an additional pool of players that can be "called up" and placed on the active roster once they are added to the 40-man roster. The total number of players per team that will be eligible to be added to the active roster at any point in the season is 60. This is to make up for the fact that the minor leagues are not playing in 2020, so teams had to craft their 60-man rosters with veterans that could be ready at a moment's notice while also sprinkling in young prospects who need to continue to develop and who may see big league playing time later in the season if injuries occur or if teams fall out of contention. Teams also included possible trade chips as well.
Tyler Matzek checks a few boxes for the Atlanta Braves in terms of what he could contribute in 2020. He is a former first round draft pick of Colorado who spent 2014 and 2015 in the Major Leagues before stepping away from the game to regroup. He has proven to be an effective starter and reliever and could fill any role from a back of the rotation starter to first man out of the bullpen to a matchup specialist. After an impressive showing in Summer Camp, Matzek made the Braves' decision whether or not to add him to the Opening Day roster an easy one. So how does a pitcher who has not pitched in the Major Leagues since 2015 earn a coveted spot on a 60-man roster?
Tyler's journey back to the Major Leagues began in Pasadena, CA, where he was working out indoors at a baseball facility and considering a comeback in 2017. It was there that he learned about the California Winter League. Matzek understood that throwing off of an artificial mound indoors was not enough to earn another professional opportunity; he needed to face live hitters in live games that counted. The only place to do that in January, before spring training begins, is at the California Winter League in Palm Springs. So Tyler registered with the intention of proving to MLB scouts that he still had the stuff that made him a first round draft pick and MLB pitcher and that he could use it effectively while proving he is healthy and in shape.
"I'm kind of treating it more like an early spring training," Matzek said of his time in Palm Springs. "Every day is another opportunity to compete and get better…It's been great, perfect weather, there's good talent out here and it's just been a really good experience."
After pitching for the Palm Springs Chill in the 2018 CWL, Matzek earned a minor league contract with the Seattle Mariners. Seattle brought Matzek to minor league camp before ultimately making the tough decision to release him. From there, Matzek pitched in the American Association for Grand Prairie before moving on to the Arizona Diamondbacks and eventually the Atlanta Braves. Matzek impressed in the abbreviated Summer Camp in July that led up to the delayed start.
Now the task for Matzek becomes to prove his worth before the active roster begin to be trimmed from 30 down to 26. His versatility and experience will undoubtedly play a role in the Braves' decision making process. Either way, hard work and perseverance has already paid off for Matzek as looks to once again prove his abilities at the Major League level.
"The ultimate goal is to have 10 years in the big league and be a hall of famer," Matzek said. "I mean, that's everybody's ultimate goal. If we're not going for that, then what are we doing out here?"
The Braves open their season today, July 24th, against the New York Mets, first pitch at 1:10 PT.