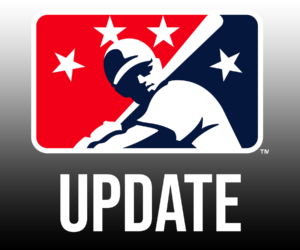 Major League Baseball has released their list of minor league affiliates, confirming that dozens of formerly affiliated minor league teams have lost their affiliation with MLB. The final alignment will see each Major League organization have 4 minor league teams, in the US consisting of 4 full season clubs (AAA, AA, A+, A-) and one team that plays at the team's minor league complex. In addition, organizations can have up to 2 Dominican Summer League teams consisting primarily of prospects from the DR. All told, there are 180 roster spots per organization, with many organizations not expected to hit that maximum.
So what does this mean for players? Ultimately, 43 former minor league affiliates are no longer a part of the MLB minor league system. Assuming 25-man rosters for these teams, that's 1075 less roster spots for players in the affiliated minor leagues. A handful of these jobs will return with expanded minor league rosters relative to past seasons and the ability to have up to 2 Dominican Summer League teams, but unfortunately the path to Major League Baseball just got more difficult. However, there is hope for players still grinding away in independent baseball or as free agents via the independent leagues.
Independent baseball will become a more integral step in the player development process than ever before in 2021. Previously, the independent leagues have been a place for released players to stay in shape while they hunt for their next MLB contract and for players who have the ability to play for an MLB organization but need more exposure and experience before a scout will pull the trigger. Each year, dozens on players make the jump from independent baseball to the affiliated ranks, with the Frontier League usually contributing the most players. Now, there will be 4 independent leagues that MLB has recognized as partners; The Frontier League, the American Association, the Atlantic League, and the newly formed Pioneer League (consisting primarily of teams who just lost their affiliation). MLB is trying to move on from the phrase "independent baseball" and considers these 4 leagues to be simply "professional baseball" and an integral part of player development. With 43 teams losing their affiliation and with the MLB draft expected to be cut down to 20 rounds, or less, roster spots in these MLB partner leagues will be more coveted than ever before.
So while looking at things from a purely "numbers game" point of view, it just got much more difficult for players to earn a roster spot in professional baseball. However, there is still plenty of opportunity out there. Players need to be on a field, in front of scouts, playing as much as possible over the next few months. There is simply too much talent available right now and the ones who are remaining active and on the field are the ones who will receive these coveted opportunities. Independent baseball is no longer a so called "last resort" for players who have been released, it is now an uber-competitive shark tank of prospects waiting for a spot in one of the 4 domestic leagues to open up. For the fans, professional baseball across all levels will be more competitive than ever. For the players, the need to stay relevant just increased tenfold.
While there are still months between now and the start of spring training across professional baseball, there is only a matter of weeks until the start of the California Winter League. The CWL gives professional free agents the opportunity to play 5-6 games per week for a whole month and work with a coaching staff that consists entirely of MLB scouts and professional managers and coaches who are looking to sign players before spring training begins. Additionally, the CWL is the Official Winter League of the Frontier League and the Frontier League has agreed to sign at least 28 CWL players in 2021. The 2021 CWL season runs from January 18 – February 15 and registration is currently open for players with professional or college experience.