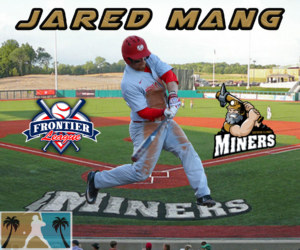 The Southern Illinois Miners of the Frontier League have signed outfielder Jared Mang from the California Winter League. Mang played college baseball at the University of New Mexico. Mang was drafted by the Detroit Tigers in the 18th roud of the 2019 amateur draft and went on to play in the Gulf Cost League that season.
At the CWL, Mang worked with Miners' Director of Scouting Casey Dill, who said
"Mang was released when MLB made the decision to eliminate several affiliated teams from the low minors. He has affiliated talent, which is obvious when you watch him play. He was one of the top prospects at the CWL this season and we expect him to have an immediate impact with the Miners."
Jared also showcased his ability to play all three outfield positions and showed off a strong arm as well. Mang was also near the top of the exit velocity charts consistently, topping 96 MPH off of flips in batting practice. He now looks to stick with the Miners in the MLB-partnered Frontier League as he works his way back to the MLB affiliated minor leagues.