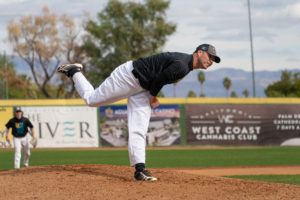 Click to View Full Story from FrontierLeague.com
Schaumburg Boomers first baseman Braxton Davidson and Équipe Québec right-hander Codie Paiva have won this week's Player and Pitcher of the Week, respectively. These awards are chosen by Pointstreak, who is the official statistical provider of the Frontier League.
Davidson claims his first Player of the Week award and Schaumburg's fifth weekly award this season. Davidson led the league this week with thirteen hits, including three doubles and four home runs. He recorded eleven RBIs and hit .591 over six games this week.
The 25-year-old joined the Boomers after being traded from the Joliet Slammers on August 10. He is still in his first season in the Frontier League. Davidson was drafted by the Atlanta Braves in the first round of the 2014 MLB June Amateur Draft and spent five years in their organization. With both Joliet and Schaumburg this season, he has batted .276, with 71 hits and 52 RBIs. His 19 home runs rank second in the league.
This is Paiva's first Pitcher of the Week award, and the third weekly award for Québec this season after L.P. Pelletier won Player of the Week two weeks ago, and Miguel Cienfuegos took home the Pitcher of the Week award earlier in the season. In Paiva's start against New Jersey on Friday (9/3), he tossed a complete game shutout. He allowed just four hits and one walk and recorded three strikeouts in the 7-0 win over the Jackals.
Paiva is also in his first season in the Frontier League. The 24-year-old was drafted by the Miami Marlins in the 2019 MLB June Amateur Draft and spent the 2019 season in their organization. Before that, he played collegiately at Loyola Marymount University. He is currently 6-5 with a 4.70 ERA on the season. He has recorded 75 strikeouts in 111 innings pitched this season and has allowed just 23 walks.
Pointstreak provides the league with its statistical software and in game scoring applications. They aim to deliver "fast scores and cool stats to players, parents, fans, scouts and media." For more information on Pointstreak products visit them at www.poinstreaksolutions.com or www.pointstreak.com.
The Frontier League of Professional Baseball is an official Partner League of Major League Baseball and the largest of its kind in professional baseball.  The Frontier League features 16 teams and has moved over 1,000 players to MLB Teams in its 29-year history.  Please visit www.frontierleague.com.