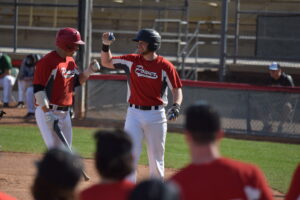 Palm Springs Power Pitch a Combined Shutout Victory Against the Bombers
Palm Springs Power (3-1) defeated the British Columbia Bombers (2-2) 7-0 on Tuesday as two pitchers combined to toss a shutout.
The Power secured their victory thanks to a five run sixth inning courtesy of Robbie Carling, Ronnie Keaton, Josh Jubile and Andrew Gaytan.
Yusei Teraoka went 2-for-3 as one of the few positive outcomes from the Bombers.
Yu Sato started the game for British Columbia earning three strikeouts with zero hits, walks, or runs over two innings of work. Max Peterson took the loss for the Bombers after a rough fifth inning. Peterson surrendered seven runs on six hits over three innings with one lone strikeout.
Brice Foster started and earned the win for the Power. Foster struck out three batters and allowed four hits in his five innings of work. Jacob Espitia closed out the game with three strikeouts, allowing only one hit and walk in two innings.
Canada A's Get Their First Win Courtesy of a 9 Run Inning
The Canada A's (1-3) come back from a 3-0 Oregon Lumberjacks (2-2) lead in the top of the sixth with a nine run scoring affair to defeat the Lumberjacks 9-6.
The Jacks scored first putting up three runs in the first inning thanks to Omar Ortiz Vazquez and Danny Fontana.
Matt Jobes started the game for the A's but struggled to record an out in the first inning and surrendered three runs on two hits and one walk. The first inning was rolled over. Kyle Armsworthy received the win in two innings of work with two strikeouts. Walker Paz earned the save by recording the last out of the game.
Roberto Baldenebro started the game for the Jacks allowing no runs on two hits with six strikeouts in four innings of work. Unfortunately, the great start wouldn't be enough as Michael Bono pitched two thirds innings allowing nine runs to score on four hits while striking out five.
The Jacks attempted a comeback in the seventh by scoring three runs but came up short.