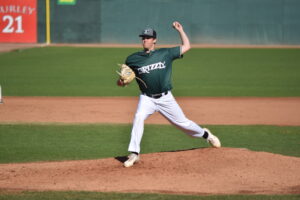 Grizzly Walk-off Today, After Yesterday's Walk-off Loss
It came down to the wire on Sunday, with the Alberta Grizzly (4-3) taking victory on a dramatic walk-off double in the late innings that sealed their 7-6 victory over the British Columbia Bombers (4-3).
The Bombers opened up scoring in the second inning, when Tyler Ryan singled, scoring one run.
Bats blistered as the Grizzly collected eight hits and the Bombers tallied six in the high-scoring game. Sean Lawlor hit a homerun for Alberta that knocked on the batter's eye in the third inning. The Grizzly trailed 6-5 in the bottom of the seventh inning when Kole Renken doubled to score two runs and win the game.
Arturo Monroy started the game for the Grizzly and went four innings, allowing four runs on four hits and striking out three. Takuro Fujisawa threw two innings in relief out of the bullpen. Jackson Dekker led the Grizzly to victory on the pitcher's mound going one inning, allowing zero runs on zero hits, striking out one and walking one.
Luke Drummond started the game for the Bombers and lasted four innings, allowing five hits, five runs, while striking out seven batters. Blake Freeman took the loss for the Bombers in his first pitching appearance of the CWL. He allowed one hit and zero runs over one-third of an inning, striking out one batter.
Palm Springs Battle Ends in Shutout, Power defeat Chill
The Palm Springs Power defeated the Palm Springs Chill 3-0 on Sunday as two pitchers threw a combined shutout. Samuel Kornstad induced a groundout from Devon Fisher to finish off the game.
The pitching was strong for both teams from Palm Springs, as the Power struck out eight batters and the Chill put down seven. The Power threw a one hitter, with Bill Pearson being the only member of the Chill to muscle out a single in the fourth inning.
The Power started the scoring in the second inning on an error by the Chill. Junior Coleman led the Power with three hits and an RBI.
Jesse Galindo took the loss for the Palm Springs Chill. He surrendered three runs on six hits over five innings of work, striking out seven and walking one.
Joseph Sgambelluri earned the win for the Power. Sgambelluri went five and a third innings, allowing one hit, zero runs and striking out six without allowing a walk. Kornstad threw one and two-thirds innings in relief out of the bullpen. Kornstad recorded the last five outs to earn the save for the Power.
Tomorrow, and every Monday, is Locals' Day at Palm Springs Stadium. Coachella Valley residents can grab a ticket for just $5 and stay for both of tomorrow's games at 10:00am and 12:30pm.