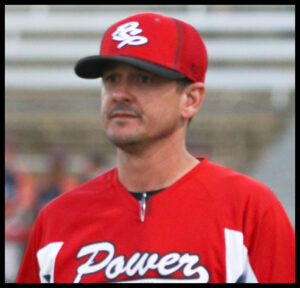 Tight Game Between Palm Springs Power and Alberta Grizzly Ends in First Tie of Season
The Palm Springs Power (5-3-1) and the Alberta Grizzly (4-4-1) played to a 2-2 tie on Wednesday. The Power tied the game on a groundout in the sixth inning.
Alberta fired up the offense in the first inning when Kole Renken singled, scoring one run.
Arturo Monroy started on the mound for the Grizzly. He was perfect through four and one-third innings, but ended his day with four hits, two runs, one walk and four strikeouts, through six innings of work. DC Russ came in relief pitching one inning and striking out one batter.
Samuel Kornstad started the game for the Power allowing seven hits, two runs, a walk and four strikeouts through four innings. Joseph Sgambelluri threw three innings allowing only one hit, a walk and struck out four batters.
British Columbia Bombers Grab Lead in Fifth Inning for Victory Over the Chill
The British Columbia Bombers (6-3) took the lead late in the game in a 6-5 victory over the Palm Springs Chill on Wednesday.
The Chill scored four runs in the second inning, but the Bombers still managed to pull out the victory. Chandler Palyas, Bill Pearson, and Devon Fisher all drove in runs for the Chill.
Juan Martinez started the game for the Chill and took the loss after allowing eight hits and six runs over five innings, striking out three and walking one. Hokuto Kani came in relief and lasted one inning allowing no hits, runs, or walks.
Kevin Kirley started the game for the Bombers lasting one inning allowing one hit and two runs while striking out two. Griffin Schneider took the victory for the Bombers. He allowed two hits on one run over two innings, striking out one in his CWL pitching debut. Max Peterson and Yasuaki Tanaka entered the game out of the bullpen and helped close out the game. Tanaka recorded the last three outs to earn the save.
Tomorrow and every Thursday at the CWL is Out of Towners' Day at Palm Springs Stadium. Out of State US Citizens get in for just $5! And as always, Friday is Canada Day for our friends to the north, who