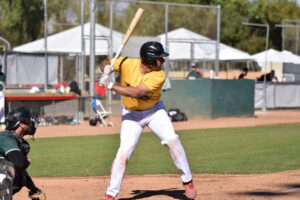 Grizzly Can't Catch Up To Palm Springs Chill
The Alberta Grizzly (5-9-1) fell behind early and couldn't come back in an 11-1 loss to the Palm Springs Chill (8-7) on Friday.
The Grizzly lost despite out hitting the Chill seven to six. In the first inning the Chill got their offense started when Shao-Pin Ho hit a two RBI single.
The Chill scored four more runs in the fourth inning thanks to AJ Pollack's second triple of the game, a dropped third strike at bat by Hsuan-Jui Peng, and an error on a ball put in play by Gavin Jones.
Mitchell Senger took the loss for Alberta and lasted two and two and a third innings, allowing two hits and six runs while striking out four. Senger struggled with his command, hitting five batters and throwing six wild pitches.
Corby McCoy started and took the win for the Chill. The lefty went three innings, allowing one run on four hits and striking out three batters. Hokuto Kanai and Joshua Hinz entered the game in relief and helped close out the game.
Bombers Prove Top Tier Status, Defeating the Palm Springs Power 
The Palm Springs Power (9-5-1) fell behind early and couldn't come back in a 5-3 loss to the British Columbia Bombers (12-3) on Friday.
British Columbia fired up the offense in the first inning thanks to a RBI single by Malcolm Smith, who would finish the game 2-2 with two RBI and a run.
Max Peterson was the winning pitcher for the Bombers and went four innings, allowing two runs on three hits, striking out one and walking one. Yasuaki Tanaka, Blake Freeman, and Luke Drummond all put in work in relief out of the bullpen, steering their team towards the victory. Drummond recorded the last three outs to earn the save for the British Columbia Bombers.
Joseph Sgambelluri took the loss for the Palm Springs Power allowing three runs on three hits over two innings, striking out four and walking one.