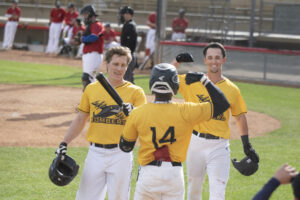 Game 1: #5 Alberta Grizzly (5-9-1) @ #4 Oregon Lumberjacks (7-8)
First Pitch: 9:00 am
Another action-packed regular season in the California Winter League comes to a close and gives way to a tripleheader of playoff action beginning on Saturday at 9:00 am. The Grizzly finished the season on a five-game losing streak, and look to upset the Lumberjacks in the first round. The Jacks took down the Grizzly three of four times they played this season, and look to ride the hot bat of Nick Giambalvo, who hit for the cycle and has three multi-hit games in the six games he's played in February.
Game 2: #6 Canada A's (3-12) @ #3 Palm Springs Chill (8-7)
First Pitch: 11:00 am
The resurgent Palm Springs Chill ended off the season on four straight wins, including an 11-1 thumping of the Grizzly to lock up the third seed in the playoffs. They will host the Canada A's in their first-round playoff matchup, who won their final game 11-6 before resting on the regular season's last day. They will look to their balanced lineup to cool down the red-hot chill in the second game of the day.
Game 3: Commissioner's Cup- #2 Palm Springs Power (9-5-1) @ #1 British Columbia Bombers (12-3)
First Pitch: 2:30 pm
The Commissioner's Cup will pit the top two teams in the CWL against each other, a rematch of the 5-3 Bombers win that ended the regular season. The Bombers look to continue the eight-game win streak that carried them to the best record in the CWL in the regular season, and will be bolstered by flamethrower Kyle Johnson joining their staff. The 28-year old right-hander threw an inning for the A's last week and averaged a fastball of 97 miles per hour. Casey Dill's Power have struggled against the Bombers this season, compiling a record of 1-5 against the Bombers while going undefeated against all other teams in the CWL.