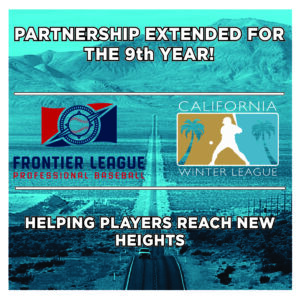 PALM SPRINGS, Calif – The California Winter League (CWL) announced today that it has extended its agreement with the Frontier League for the 2023 CWL season. Since 2015, the California Winter League has been the Official Winter League of the Frontier League. The agreement creates the best opportunity for baseball players to begin or advance their professional career by creating a clear pathway directly from the California Winter League to the MLB-partnered Frontier League. Since 2015, over 250 CWL players have been signed by Frontier League teams, with many moving on to play affiliated minor league baseball within Major League organizations. CWL and Frontier League Alumni Mickey Jannis and Luke Barker made their Major League debuts in 2021 and 2022, respectively.
"We are excited to extend our relationship with the California Winter League into a ninth season.  The CWL has proven to be a valuable part of our scouting and player recruitment operations, as evidenced by the four CWL alumni who were Frontier League All-Stars this season.  The opportunity for a player to be evaluated in game action for four weeks makes the California Winter League the top development organization for players looking to begin or continue their professional baseball careers," said Frontier League Deputy Commissioner, Steve Tahsler.
Included in the agreement are provisions that each Frontier League team sign a player directly from the CWL and that those players not be released prior to the end of Frontier League spring training. As contracts in MLB partner leagues are not guaranteed, this gives CWL players the best opportunity to make an Opening Day roster in the Frontier League. Many times, players signed in the offseason are released in the lead up to spring training and replaces with players from the MLB affiliated minor league ranks. This will not be the case with CWL players who sign with Frontier League teams. Provisions like these have helped CWL players go on to become Frontier League All-Stars and Champions, including four CWL alum selected as 2022 Frontier League All-Stars.
Tom Vaeth, manager of the Washington Wild Things in the Frontier League, has attended the CWL four times as an instructor and manager, signing CWL players each year. Vaeth had this to say about the CWL: "The CWL is unique in that, unlike ordinary tryouts that last only for a few hours, it gives young players a chance to showcase their abilities over the course of a full winter season. As a manager, it is way more beneficial to evaluate players during actual gameplay than just seeing them work out, taking ordinary ground balls and regular BP. I've had the opportunity to sign multiple CWL players out of the CWL over the years and give them a chance to start or continue their playing careers." In 2022, Vaeth signed catcher and utility player Landen Barns out of the CWL. Barns has stuck with the Wild Things all season, and continues to be a contributor for Vaeth and the Wild Things after spending the 2021 season in the United Shores Professional Baseball League, where he signed out of the CWL in 2021.
"The agreement with the Frontier League has created so much opportunity for CWL players over the past 8 years and we are thrilled to continue this relationship. To be the Official Winter League of a top MLB partner league will ensure that CWL players have the best path possible to reach their professional goals," said California Winter League General Manager, Justin Reschke about the agreement. He continued, "With 16 teams across the Midwest, East Coast, and up into Canada, the Frontier League is able to provide quality destinations, support, and top tier competition for players to continue to develop as professionals so they're an obvious choice when it comes to working directly with a professional league."
In addition to 30-35 CWL players, on average, signing with Frontier League teams every year, the CWL also hires managers from the other three MLB partner leagues including the Atlantic League, American Association, and the Pioneer League. These managers manage CWL teams and work with players every day. They also come with contracts in hand, ready to sign players for their organizations. In addition to managers and coaches from the partner leagues, the CWL makes sure to have representation from the United Shores Professional Baseball League and as many MLB pro scouts as possible rounding out its coaching staff every year.
Since its inception in 2010, the California Winter League has seen over 800 CWL players sign professional contracts at all levels of baseball, including the Major Leagues. In 2021, 2018 CWL Alum Tyler Matzek played a crucial role for the Atlanta Braves, coming out of the bullpen in tough situations all season and throughout the playoffs as they captured their fourth World Series championship. Entering its 14th year, the 2023 CWL season will begin with players reporting on January 23rd. Teams will play five to six games per week during the month-long season which culminates in a championship game and sees players depart on February 20th.
The Frontier League of Professional Baseball is an official Partner League of Major League Baseball and the largest of its kind in professional baseball. The Frontier League features 16 teams and has moved over 1,000 players to MLB (Major League Baseball) Teams in its 29-year history. For more information, please visit www.frontierleague.com.