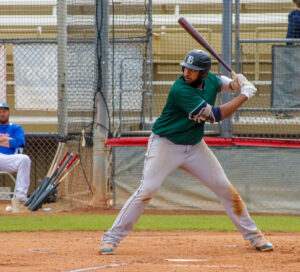 Written by: Joey Cena on Friday, February 3rd, 2023.
The California Winter League action continued on day 9 of the season. The turf field featured the Washington Blue Sox (3-3) playing the British Columbia Bombers (2-3-1). Game 1 at Palm Springs Stadium was the Manitoba North Stars (2-3-1) facing the Alberta Grizzly (3-2). Game 2 featured the Palm Springs Chill (2-4) and the Canada A's (3-3).
In the turf game, the Bombers scored a run in the 1st inning. British Columbia tacked on another run in the 3rd. The Sox got on the board in the 5th inning. BC Bombers held on to win 2-1. Darius Simple went 2-3 with an RBI double in the 1st and an RBI triple in the 3rd. Jacob Tate picked up a two inning save with 4 K's and just one hit allowed for the Bombers.
In game one at the stadium, both teams started out hot. The North Stars got on the board in the top of the 1st inning with a 2 out double from Cole Renken that scored two. In the bottom of the inning, Noah Arreola hit an RBI single that scored two. The Grizzly tacked on two more runs in the second. Alberta was ahead 4-2 until the 6th inning when Denver Blinn hit a homerun (1) to left field. The Grizzly went on to score three more runs in the 6th. The Alberta Grizzly defeated the North Stars 7-3.
In game two at Palm Springs Stadium, Danny Carnazzo put the A's on the board with a two run double in the 1st inning. The Chill responded with two runs in the 4th after a Nick Noll RBI single. It was tied 2-2 going into the 5th. The A's scored a run in the bottom of the 5th to break the tie. Canada was able to hold on and win 3-2 on Canada Day.
The California Winter League continues tomorrow with four games. The Canada A's face the Manitoba North Stars on the turf field at 9:00 a.m. The Toronto Rush take on the Palm Springs Chill at Palm Springs Stadium at 10:00 a.m. The second turf game at 11:30 a.m. features the Alberta Grizzly and the Washington Blue Sox. Finally, the Oregon Lumberjacks will play Palm Springs Power at 12:30 p.m. at Palm Springs Stadium.
All games at the stadium are available on YouTube on the California Winter League YouTube channel. Tomorrow's promotion at the stadium is $2 drafts. Concessions will be selling $2 draft beers. For more information about promotions, standings, and the schedule, visit californiawinterleague.com.