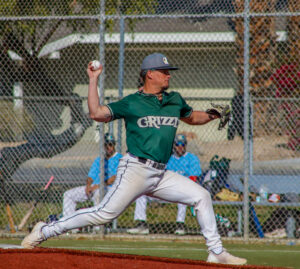 By Jacob Kronberg on Sunday, February 5th, 2023
Palm Springs, CA – The Alberta Grizzly (6-2) continued their winning ways this morning, as they defeated the Toronto Rush (3-5) on the Palm Springs turf field. It was the Rush who cracked the scoreboard first on a two-run triple by McCoy Pearce, and a Howard Rodriguez sacrifice fly in the top of the first inning. Toronto would tack on its fourth run of the day on a LoLo Williams RBI single in the third inning. From then on, it was all Grizzly. Alberta would plate five in the third inning, two in the fourth inning, and five more runs in the sixth, going on to an eventual 12-4 victory. Andre White, Anthony Pomilia, and Jackson Murphy led the way for the Grizz', each registering three hits in the contest. Alberta has now won four games in a row, while Toronto has dropped four straight.
The Canada A's (6-3) pitched their first shutout of the California Winter League season today in our first of two stadium matchups. Four A's pitchers combined for the 5-0 blanking of the Palm Springs Power (3-4). Evan Brandt, Anthony Barron, Jerry Davis, and Levi Wilson put together went for seven innings of two-hit ball, striking out five, and not walking a single batter. One of, if not, the best pitching performances put on display this season. Canada's center fielder Pierce Jones delivered the big hit in the ballgame with a fourth innings single that drove in a pair of runs. The A's are now winners of three straight games.
Sunday's finale saw the British Columbia Bombers (4-3-1) take down the Oregon Lumberjacks (5-3) by a score of 6-1. The Bombers scored a couple of runs early on. A Tanner White RBI single in the first inning scored the opening run of the game. In inning number two, Scout Knotts bounced into a double-play, bringing home a second run. British Columbia's starting pitcher, Mark Berryman, cruised from there, going four innings of three hit ball. The BC offense would add four runs in the fifth inning on a Jordan Schulefand RBI single, a bases loaded walk, and a few Oregon errors defensively. Ronald Jackson drove in the lone Oregon run of the game with a single in the top of the sixth inning. The loss snapped a four game winning streak for Lumberjacks.
The California Winter League continues tomorrow with three games. The Oregon Lumberjacks face the Manitoba North Stars on the turf field at 9:00 a.m. The Washington Blue Sox visit the Palm Springs Power at Palm Springs Stadium at 10:00 a.m. Followed by the British Columbia Bombers at the Palm Springs Chill at 12:30 p.m. All games at the stadium are available live on YouTube on the California Winter League YouTube channel. Tomorrow's promotion at the stadium Two for Tuesday, where fans get two tickets for the price of one. For more information about promotions, visit californiawinterleague.com