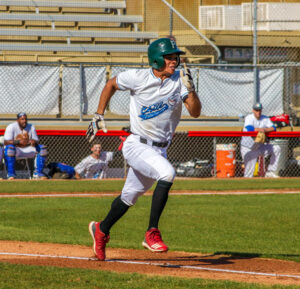 By: Evan Schmeizer
Canada A's @ Manitoba Northstars
The A's were led by Robert Chayka and Danny Carnazzo as they both had two hits with RBIs as they held on to beat the Northstars 4-3 to improve to 5-3 on the turf field. Clay Wisner picked up the win on the mound after going the first three innings and allowing no runs on one hit. The Northstars gave the A's a scare as they put up three runs in the bottom of the sixth inning. Harrison Fullerton had the big blow with a two-run single. Mike Anthony shut the door in the seventh to record the save for the A's.
Toronto Rush @ Palm Springs Chill
The Palm Springs Chill were in full control as they knocked off the Toronto Rush 6-1, beating the Rush for the second time in three days. Neil Uskali was dazzling in his start for the Chill, going five shutout innings, scattering three hits, only walking one man, and striking out six. He kept the Rush off balance all morning. Cale Thompson, Paul Murrow, Aaron Cook, and Cameron Bass each had two hits to key the offense, who took advantage of three Rush errors to win their second game in three tries.
Alberta Grizzly @ Washington Bluesox
The Alberta Grizzly were in control from the opening inning as they led 3-0 after two and cruised to a 6-0 victory. Jackson Murphy was the big man offensively as he drove in four runs in his two-hit effort. Ubaldo Romo started and went the first three innings. Ubaldo Romo was the first man out of the bullpen, going the next 2.2 innings. Jake Hall came in to record the final out for the Grizzly to knock off the Bluesox.
Oregon Lumberjacks @ Palm Springs Power
The Oregon Lumberjacks annihilated the Palm Springs Power 15-1 in the second day of Rancho Mirage Day at Palm Springs Stadium. They plowed six runs across in both the third and fourth innings to win their fourth consecutive game after starting 1-2. Chris Monroe and Andrew Puglielli each clobbered three-run home runs to left field. Puglielli had the loudest day for the Jacks as he had six RBIs.
The CWL is back in action tomorrow for Family Day Sunday as the Toronto Rush take on the Alberta Grizzly on the turf field at 9am. The stadium doubleheader features the Palm Springs Power and Canada A's for the morning game. The afternoon matinee will be the aforementioned Lumberjacks against the British Columbia Bombers.