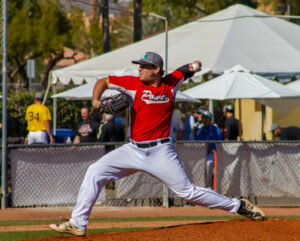 Written by: Joey Cena on Monday, February 6th, 2023.
The California Winter League action continued on day 12 of the season. The turf field featured the Oregon Lumberjacks (5-3) playing the Manitoba North Stars (2-5-1). Game 1 at Palm Springs Stadium was the Washington Blue Sox (3-5) facing the Palm Springs Power (3-4). Game 2 featured the British Columbia Bombers (4-3-1) and the Palm Springs Chill (3-5).
In the turf game, it was a high scoring affair. Chris Monroe helped the Oregon Lumberjacks take down the Manitoba North Stars 8-6. Monroe went 2-3 with two singles and an RBI. Daniel Youngblood was a highlight for Oregon as well. He went 2-3, with a single, a triple and 3 RBI.
In game one at the stadium, Shawn Rigsby led the Palm Springs Power to a 7-0 win against the Washington Blue Sox. Rigsby went 2-4 with an RBI, while Izayah Alveraz went 1-4 with two RBI. The Blue Sox are in a five game skid, now (3-6). The Power also displayed dominant pitching. Angel Landazuri tossed 5 scoreless innings, allowing 4 hits while striking out 9 batters. His ERA stays at 0.00 and moves to 3-0 in the CWL season. Michael Barker then came in for relief and continued right where Landazuri left off. Barker threw 2 scoreless innings, adding four punchouts.
In game two at Palm Springs Stadium, the Chill went out to a 1-0 lead in the 2nd inning. Palm Springs never looked back. The Palm Springs Chill defeated the British Columbia Bombers 4-0. The Chill were led by their starting pitcher, Shi-Hao Tung. Tung pitched six scoreless frames, only allowing 2 hits. He recorded 2 base on balls, and 10 strikeouts. An outing to remember, lowering Tung's ERA to 1.84.
The California Winter League continues tomorrow with four games. The Palm Springs Chill face the Washington Blue Sox on the turf field at 9:00 a.m. The Toronto Rush take on the Canada A's at Palm Springs Stadium at 10:00 a.m. The second turf game at 11:30 a.m. features the Alberta Grizzly and the British Columbia Bombers. Finally, the Oregon Lumberjacks will play the Manitoba North Stars at 12:30 p.m. at Palm Springs Stadium.
All games at the stadium are available on YouTube on the California Winter League YouTube channel. Tomorrow's promotion at the stadium is two for Tuesday. You get two for one on admission to the games. For more information about promotions, standings, and the schedule, visit californiawinterleague.com.