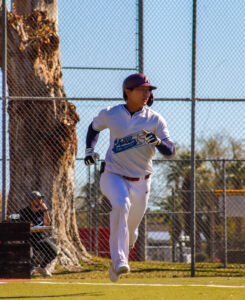 By: Evan Schmeizer
Palm Springs Chill @ Washington Bluesox: 9am Turf
The Chill may be the new hottest team in the CWL as they defeat the Bluesox 4-3, improving to 5-5. Palm Springs wins its third in a row, fourth in the last five games, and the second straight game since the return of manager Stan Cliburn. Christian Zellner turns in another sensational outing on the mound. He went the first 6.1 innings scattering just two earned runs on four hits. The Bluesox drop its sixth straight and are in danger of facing the 8-9 seed play-in matchup to open the CWL playoffs next week.
Toronto Rush @ Canada A's: 10am Stadium
The Toronto Rush snapped a four-game losing streak by knocking off the A's 6-5, snapping the A's three-game win streak. Michael Cooper's RBI double to the wall in right center field and Lolo William's two-run bloop single keyed a five-run first inning for the Rush. The A's answered back with three runs in the bottom of the first. Canada put the tying run in scoring position in both the fifth and sixth innings, but could not get the big hit. Noah Lashley recorded a three-inning save to improve the Rush to 4-5 and drop the A's to 6-4.
Alberta Grizzly @ British Columbia Bombers: 11:30am Turf
Travious Ford explodes for the Grizzly, going 3-4 with a couple doubles and three stolen bases to lead his Grizzly to a 7-0 drubbing of the Bombers. Anthony Pomilia dazzles on the mound, going the first five innings. He allowed just two hits while walking none to lead the top seeded Grizzly to its fifth consecutive win. The Bombers fall to 4-5-1 after dropping its second consecutive game.
Oregon Lumberjacks @ Manitoba Northstars
The Northstars overcame six errors to defeat the Lumberjacks 9-6 in a game in which both teams committed a combined nine errors. Taylor Lomack was the big man of the day going 4-4 with two doubles, three RBIs, and three stolen bases out of the leadoff spot. Trey Morrill went the first five innings on the mound allowing three earned runs. Shao-Pin Ho came out of the bullpen to pitch the final two innings to snap the Northstars four-game losing streak.