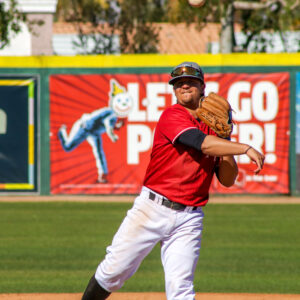 By Jacob Kronberg on Wednesday, February 8th, 2023
Palm Springs, CA – It was an offensive outburst for the Palm Springs Power (5-4) this morning in a 11-0 rout over the Manitoba North Stars (3-6-1). Burle Dixon got the party started for Palm Springs in the road first with an RBI single to score Keith Torres III, and the offense took off from there. Dixon knocked in two more runs in the third inning with his second base hit of the game. He finished the game with three hits. His first three-hit game of the California Winter League season. Matt Garcia and Seamus Reece each picked up an RBI in the fourth inning on a fielder's choice and single respectively. The Power erupted in the fifth, as the first five men to bat reached base, leading to four more runs. Taylor Meaux added two runs to the tally in the sixth inning to put the icing on the cake. All nine guys in the Power lineup reached base, and eight of them drove in at least one run. On the mound, Michael Barker and David Escobar combined for seven innings of one hit, shutout, baseball.
The stadium matchups today started with a tremendous pitching performance by the Toronto Rush (5-5) in a 4-0, shutout, victory over the Washington Blue Sox (3-8). Rush starter Jared Burch took a perfect game into the fifth inning and ended up going five scoreless innings, allowing one hit, and punching out nine Blue Sox. Burch now has 24 strikeouts in 12 innings pitched this winter. Fu-Yuan Chang came out of the bullpen with two scoreless innings of his own. Offensively, Manuel Ochoa, Michael Cooper, and Matthew Crossley all drove in runs in the win.
Today's finale between the league's top two teams, the Canada A's (6-4-1) and the Alberta Grizzly (7-2-1) came down to the very last out. Canada got another strong start from flamethrower Evan Brandt, as the 18-year-old went four innings, giving up no hits, and striking out seven. The A's jumped out to a two-nothing lead in the top of the third inning on a Nolan Riley double play and a Danny Carnazzo RBI single. The Grizzly answered with two runs in the home fourth, capitalizing on a few A's defensive misqueues. Canada would jump back on top in the very next frame on a Nelson Padilla, two-out single. To the bottom of the last we went with the A's leading the Grizzly 3-2. With Alberta down to its final out, Jose Abraham Martinez punched a double down the right-field line to score Waturu Kumagai and knot the game at three. The score of 3-3 would be the final score.
The California Winter League continues tomorrow with three games. The Oregon Lumberjacks face the Canada A's on the turf field at 9:00 a.m. The Palm Springs Chill visit the Alberta Grizzly at Palm Springs Stadium at 10:00 a.m. Followed by the British Columbia Bombers at the Palm Springs Power at 12:30 p.m. All games at the stadium are available live on YouTube on the California Winter League YouTube channel. Tomorrow's promotion at the stadium Two for Tuesday, where fans get two tickets for the price of one. For more information about promotions, visit californiawinterleague.com