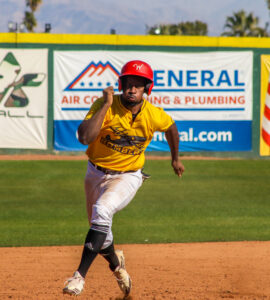 One Week until the CWL Playoffs Begin
Written by: Joey Cena
The California Winter League action continued on day 15 of the season. The turf field featured the Oregon Lumberjacks (6-4) playing the Canada A's (5-4-1). Game 1 at Palm Springs Stadium was the Palm Springs Chill (5-5) facing the Alberta Grizzly (7-2-1). Game 2 featured the British Columbia Bombers (4-5-1) and the Palm Springs Power (5-4).
In the turf game, it was all Canada. The A's scored one run in the 3rd. Canada exploded for five more runs in the 4th inning. They tacked on one more run in the 6th. Anthony Flores went 2-2, scored 3 runs and also picked up 3 RBI in a 7-0 victory for the Canada A's.
In game one at the stadium, it was a classic pitching duel. In the 2nd inning, Sam Frontino hit an RBI single to give the Grizzly a 1-0 lead. The Chill responded in the 4th inning with a 2-out two run single from Cameron Bass. The Chill were backed by their ace, Neil Uskali who threw a complete game. Uskali pitched 7 innings, giving up just 4 hits. He recorded 8 strikeouts without allowing any free passes.
In game two at Palm Springs Stadium, the British Columbia bats came to life. The Bombers scored four runs in the 1st, two runs in the 2nd, one in the 3rd, two in the 6th and six runs in the 7th. The Canada A's defeated the Palm Springs Power 15-5 on Thursday afternoon. Ryan Moad scored 4 runs in the Bombers blowout.
The California Winter League continues tomorrow with four games. The Palm Springs Power face the Washington Blue Sox on the turf field at 9:00 a.m. The British Columbia Bombers take on the Toronto Rush at Palm Springs Stadium at 10:00 a.m. The second turf game at 11:30 a.m. features the Palm Springs Chill and the Oregon Lumberjacks. Finally, the Manitoba North Stars will play the Alberta Grizzly at 12:30 p.m. at Palm Springs Stadium.
All games at the stadium are available on YouTube on the California Winter League YouTube channel. Tomorrow's promotion at the stadium is Canada Day. You get in for just $5 with a valid Canadian ID. For more information about promotions, standings, and the schedule, visit californiawinterleague.com.