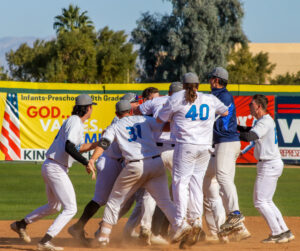 By: Evan Schmeizer
Canada A's @ Oregon Lumberjacks 9am Turf
The A's plated four runs in the top of the third inning and cruised to a 5-1 victory over the Lumberjacks in a battle of two top seeded teams. Danny Carnazzo, Ryo Takeuchi, Jakob Newton, and Anthony Flores led the way. Each of them had two hits to key Canada's 10-hit effort.
Toronto Rush @ Washington Bluesox 10am Stadium
The Bluesox snap an eight-game losing streak as they knock off the Rush 7-6. Washington plated four runs in the second inning and two more in the fifth. The Rush put the tying run on third base in the top of the seventh aided by a couple singles and a throwing error. Alexander Ford shut the door for the two inning save as the Bluesox try to climb out of the basement in the American Division.
British Columbia Bombers @ Manitoba Northstars 11:30am Turf
The Bombers come from behind by plating three runs in the top of the seventh inning against the Northstars to win 3-1. Matthew Holliday continues to come up large for British Columbia by delivering the tying and go-ahead runs on a double. Jordan Schulefand loaded the bases in the bottom of the seventh, but he induced a pop-up from Taylor Lomack and a groundout from Taylor Lomack to pick up the save. Jacob Tate secured the win on the mound obver six strong innings of one run ball.
Palm Springs Power @ Palm Springs Chill 12:30pm Stadium
Jeffery Pellegrino is the hero of Super Bowl Saturday at Palm Springs Stadium. His Chill win the game in their final at-bat as Pellegrino hit a bases clearing double with two outs in the bottom of the seventh to defeat the Power 4-3. That propels the Chill into second place in the American Division with two two games remaining in the regular season. Christian Zellner went the distance, earning the win in his complete game effort.
All nine teams have the day off tomorrow for Super Bowl Sunday. They'll pick up on Monday for the penultimate day of the regular season. The Lumberjacks open the day against the Alberta Grizzly on the turf field at 9am with the A's and Northstars to immediately follow. The first stadium matchup features the Power and Bombers with the Northstars and Bluesox to round out the matinee.