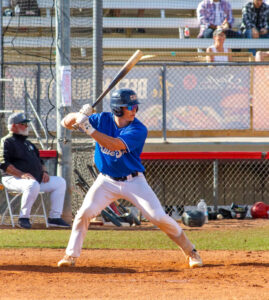 Written by: Joey Cena
The exciting playoff action continued on Saturday at Palm Springs Stadium. The Canadian League Championship featured the Manitoba North Stars and the British Columbia Bombers. The American League Championship was between the Washington Blue Sox and the Palm Springs Chill.
In the Canadian Championship game, Manitoba jumped out to an early lead with some costly errors by the Bombers. The North Stars took a 3-0 lead before British Columbia had a chance to bat. In the top of the 3rd inning, Nick Penzetta had an RBI single to extend Manitoba's lead 4-0. The Bombers responded with a Sac-fly from Tanner White, but that was it for British Columbia. The Bombers left the bases loaded in the 3rd inning. The middle innings were filled with zeros by both teams. The North Stars tacked on two more runs in the 7th. Manitoba is headed to the CWL Championship after defeating British Columbia 6-1.
In the American Championship game, the Chill went out to a 1-0 lead in the bottom of the 2nd. The bats would explode for the Blue Sox in the 3rd inning. Michael Buchino got the Sox on the board with an RBI single, Mitch Moralez then hit a Sac-fly to give Washington the lead. Alejandro Lara proceeded to hit a 2-Run double that capped off a four spot for the Blue Sox. The Sox added on in the 4th when Killian Bloat hit a solo home run over the left field wall. In the bottom of the 4th, Paul Murrow had an RBI single then after a couple of errors, came around to score. The action continued in the 5th inning, Alejandro Lara had an RBI triple to give Washington a 6-3 lead. The Chill added on two in the 5th to bring the game within one run. It was a 6-5 Blue Sox lead heading into the 6th inning. Michael Barker came in to try and record a multi-inning save to send his team to the championship. The Chill had runners on first and second and nobody out in the bottom of the 7th inning. Barker got in rhythm, striking out the next two batters he faced. The final out came on a fly ball that would send the Washington Blue Sox to the Championship.
Tomorrow is the California Winter League Championship game. First pitch is scheduled for 12:00 p.m. PT. The final game will be a 9 inning affair between the Canadian champion, Manitoba North Stars and the American champion, Washington Blue Sox.